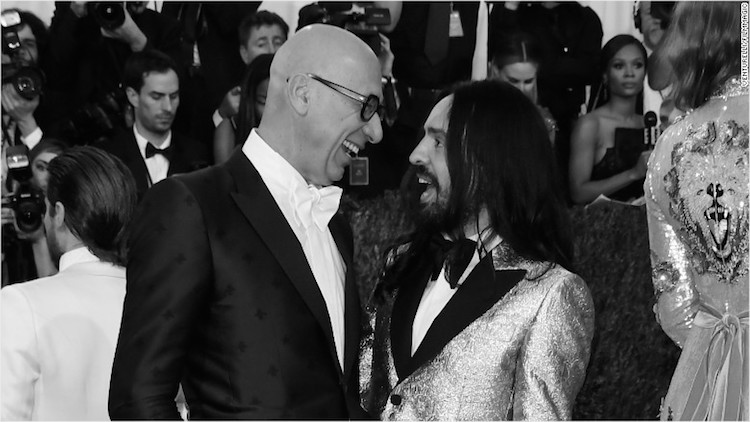 Gucci, Reinventing a Superbrand
"Fashion is about creating emotion—it's not necessarily rational, I thought, why should I look for someone else when he can translate the heritage—and when the values of Gucci are in his veins?"
Fashion is about creating emotion—it's not necessarily rational. —Marco Bizzarri, Gucci CEO
Alessandro Michele grew up on the outskirts of Rome. His father was a technician for Alitalia airlines and his mother was an executive assistant at a film company. He remembers his parents being happy but different. They were independent thinkers. The designer remembers a day in Florence, out with a friend, coming across his parents, who were visiting. Says Michele: "I told my friend, 'Look at my mum.' [I] told him, 'Look at my dad, there's my dad'. And he was like, 'Really? You're kidding me!' The way my dad looked, super long hair, long beard and this huge straw hat during the winter. Properly free." Michele credits his parents with his discovery and love of a "very eclectic beauty," combining his mother's classic Hollywood glamour with his father's "crazy shaman" spiritual eclecticism.
Michele attended Rome's Academy of Costume and Fashion, after which he joined the Italian knitwear brand Les Copains. From there, he went to work for Silvia Venturini Fendi and Karl Lagerfeld at Fendi, where he experienced significant success designing leather goods. In 2002, Michele joined Gucci alongside his predecessor, Frida Giannini. They began their work in London under Tom Ford. When sales slumped in 2004, Ford and then-CEO Domenico De Sole were ousted. Giannini was appointed creative director and Michele worked as an associate designer, executing her vision for the next eleven years. As he explains it, "I was not creative—I was more executive. My job was to more or less work quite exactly from the idea of another person. I didn't have freedom. I just put in ten percent of my creativity."
At the end of 2014, the former CEO Patrizio di Marco parted ways with Gucci, and Giannini, his partner in life and business, was due to leave in February. She ended
up departing a month earlier, leaving Gucci without a creative leader. Marco Bizzarri from Bottega Veneta was brought in as CEO but the creative director role was left vacant. Weeks later, Gucci showed a menswear collection that had been rumored to have been created in just two weeks (Michele would later say five days). Giannini had started the work, but the designs were thrown out with her premature departure. The show was positively received and at the end the entire design team took the bow together. Two days later, Alessandro Michele was officially named creative director. His first womenswear show took place the following month.
Michele's partnership with CEO Bizzarri had been solidified. But their potential had only begun to be unleashed. Over the next weeks, months, and years their impact on Gucci, holding company Kering, and the world of fashion would be considerable. Their highly original vision for Gucci, aesthetically and culturally, was a complete departure. They combined Michelle's unique understanding and appreciation of the historical codes of the house with vintage and modern street style and a much faster, more connecting approach to consumer engagement and creative partnerships. Less than a year into the new Gucci, the British Fashion Council awarded Michele the International Designer Award, the CFDA awarded him the International Award "for his creative contribution to the international fashion stage," and British GQ named him Designer of the Year. But it wasn't just a creative renaissance—the business grew explosively. Gucci has experienced approximately fifty percent sales growth annually since 2014. At the same time, it's become the most-Googled fashion brand globally and in 2017 alone added eight million new Instagram followers.
Gucci's aesthetic overhaul was reflected by an internal transformation of company culture, emphasizing passion and risk-taking. In the words of CEO Bizzarri, Gucci moved "from a culture of fear to a culture of empowerment. There [was] a change of aesthetic and a change of positioning in the company [which] came not from what we wanted to do, but why we wanted to do it." This not only impacted Gucci's approach to design, but also how it communicated with customers. Observes Bizzarri: "Connection and engagement and interaction and the way in which we approach digital and approach social make the Gucci experience today. Our culture and our way of connecting people and being authentic and passionate and joyful is really speaking to a crowd, [and] that cannot grow enough going forward."
Under the company's new leadership, rarely a month goes by without a new creative Gucci collaboration, with international scope. Partners have ranged from street artists like Coco Capitan, to Instagram artists, even Major League Baseball. An upcoming project will pair Gucci with legendary hiphop tailor Dapper Dan, who at a time was sued for knocking off designer labels like Gucci.
And part of their approach to authenticity and connection is brought to life by standing up for their social and political beliefs. Following the mass shooting at Stoneman Douglas, a Florida high school, Gucci joined the anti-gun movement by donating $500,000 to support a protest march planned by survivors. For Bizzarri the decision was easy. "Corporate neutrality is completely finished," he said. "Today you need as a corporation and as a leader to take [a] stance."
Adds Alessandro Michele: "You need a lot of courage and, at a certain point, to think I don't care, you need to do what you really want to do, otherwise you drown in this ocean of information. We are not in the eighties when there were just magazines and books. Now it's like another world. You can't keep using the same language—that would be like singing where everyone else is dancing. I think the thing that is helping us and our company is that my and Marco's way of working is really open to something different. When Gucci started, it was another age. If you bought a Gucci bag, you belonged to the jetset. The jetset doesn't exist any more. I'm trying to speak to the world, to everyone. It's beautiful that people go into the store but I don't want them to feel they have to. It's more that you can be exactly what you want to be. More than anything, fashion is an expression of a way of life, a point of view. It's like a universal language. And if you work with empathy towards people, it's very powerful."
How do you reinvent a superbrand? Do you need to spend a fortune bringing in outside talent? Buy a lot of advertisements? Gucci provides proof that while money may help, what really matters is your approach. Are you being empathetic to the desires of your customers and employees? Are you connecting, expressing, and sharing your true beliefs? Turnarounds occur when you combine a clear purpose with experienced, or consistent, creativity, emotional generosity, and flawless execution— three out of four being completely intangible and emotional.
As Marco Bizzarri says, "Sometimes emotions are more important than rationality."
Start your journey today