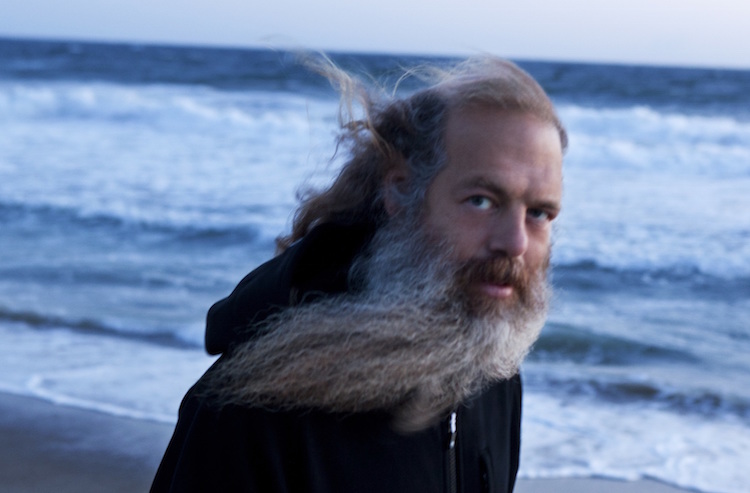 The Cycle of Creation
"People are so different. It's almost like you need to go through the process, discover and unlock what it is that makes that band that band. And a lot of times they don't know it."
Rick Rubin grew up in Lido Beach, New York. His father, Michael, was a shoe wholesaler, and his mother, Linda, a housewife. During his senior year of high school, he founded Def Jam Records and formed a punk rock band called Hose. In 1982, using his high school's sound equipment, he would record a Hose track that would eventually become Def Jam's first release. Rubin's band toured the New York City punk scene, the Midwest, and California, but broke up as his interests shifted more toward hip-hop. DJ Jazzy Jay of Universal Zulu Nation introduced Rubin to hip-hop production, and in 1983, they coproduced Rubin's first hip-hop record, "It's Yours," for the rapper T La Rock. As "It's Yours" started getting played in clubs and on the radio, Rubin's music found a fan in Russell Simmons, who was already making a name for himself as an artist manager and concert promoter. Rubin convinced Simmons to join him at Def Jam, and the pair was soon holed up in Rubin's NYU dorm room, sifting through the demos of aspiring rappers in between his classes on philosophy and film.
In late 1984, Def Jam scored its first hit with LL Cool J's "I Need a Beat," selling over 100,000 copies. The follow-up album, Radio, would be the first Rubin "reduced," aka produced, and it would go platinum. Next would be the Beastie Boys' Licensed to Ill. It would go ten times platinum, selling over 10 million copies and cementing Def Jam's reputation in the industry. Rubin literally didn't miss a beat from there. Def Jam was single-handedly responsible for introducing hip-hop music into popular culture, with the discovery, release, and production, next, of Run-DMC and Public Enemy. At the same time, Rubin began exploring his own eclectic tastes and talents. He produced heavy metal band Slayer's next album and followed that by pairing Run-DMC with Aerosmith for the trailblazing track, "Walk This Way."
After almost a decade building Def Jam, in the late eighties, Rubin decided to leave and head to the West Coast. While it was the end of his involvement with Def Jam, it was only the beginning of his impact on the world of music and culture. Since his relocation, Rubin has produced artists including Red Hot Chili Peppers, Kanye West, Johnny Cash, the Black Crowes, Slayer, Jay-Z, Danzig, the Dixie Chicks, Tom Petty and the Heartbreakers, Black Sabbath, Slipknot, Metallica, AC/DC, Aerosmith, Weezer, Linkin Park, the Cult, Neil Diamond, Adele, Mick Jagger, System of a Down, the Mars Volta, Rage Against the Machine, Audioslave, Sheryl Crow, ZZ Top, Lana Del Rey, Lady Gaga, Shakira, Ed Sheeran, Damien Rice, and Eminem. Producer Dr. Dre described Rubin as, "hands down, the dopest producer ever that anyone would ever want to be, ever." Ironically, if you ask Rick Rubin what a music producer does, he will tell you, "I don't know what music producers do. I can tell you what I do," and "I don't think we do the same thing." This is where his story begins to get interesting.
So, what is it Rick Rubin does? How has he helped artists make their best music for almost forty years across such disparate genres and styles? The secret seems to be rooted in self-discovery. As Natalie Maines of the Dixie Chicks put it, Rubin "has the ability and the patience to let music be discovered, not manufactured" or, to use our terminology, the understanding that your creativity needs to come from within. Rubin describes the process similarly, saying, "We try to go on a journey and let the artist discover who they are and in the process the best art comes from them. It's like getting to be their true selves and trying to take away all of the things [that get in the way of the creative process]." This discovery process involves less doing and more listening, which Rubin says is vital. As he explains it, "Many people don't listen," and "if you listen carefully, people explain to you what it is that they need. I'll spend time with an artist and listen very carefully to what they tell me and get them to talk about their true goals, their highest, highest goals." He continues by saying, "We'll go back to the heart of why they started doing what they are doing in the first place." This combination of the internal emotional journey and the practical skill of making music, or as Rubin describes it, "heartwork" and "headwork," is how he's sustained his craft across genres and tastes for so many decades. He taps into something far beyond the type of music or production style, and instead connects to the artist through a first principle truth, that their greatest work, can only come from manifesting and sharing a reflection of their true self, their purpose. 
THE CYCLE OF CREATION
"Follow your bliss and the universe will open doors where there were only walls."
—Joseph Campbell
We are part of a universal cycle of birth, transformation, and death. This cycle is repeated metaphorically throughout our lives, over and over again. You take on a challenge, you transform through some ordeal, your previous existence dies, and you're reborn in some altered form; birth, transformation, death, rebirth. This is what life is all about: trials, tribulations, triumphs, and ongoing transformations. From child to adult, from single to married, from married to parent, from amateur to professional, from employee to entrepreneur, from Anakin Skywalker to Darth Vader, it goes on and on and on.
To be a hero, someone who gives your life to something bigger than yourself, whether it be in your own mind or the minds of others, you must take on challenges. The goal of these challenges is to create and then share your creations for the benefit of something larger than yourself. This is part of our DNA, whether it be manifesting our own journey or engaging with someone else's. It's why we're so enthralled with the achievements of others, whether they be sports stars, CEOs, or just children playing a new song on the piano. It's what we do, it's what we want to do, and it's what makes us feel most fulfilled.
The problem is that most of us are unaware of this universal truth and don't have a framework to approach our hero's journey. We want to create and transform, but we don't know how. And we're principally concerned with our selfish desires, not understanding that our success and fulfillment are wholly dependent on serving a larger purpose.
The Cycle of Creation is all about providing a framework for creating and sharing. It's a practical guide to manifesting a fulfilled existence. It begins with self-discovery, identifying your purpose and integrating your life. The next step is choosing your highest and best challenge—and the cycle completes when you manifest and share your ideas. Like all cycles, ours is ongoing, all aspects continually refining, bringing you closer and closer to manifesting the purest reflection of your purpose. And the closer you get to manifesting that pure reflection, the more powerful you'll become.
So what are you waiting for? Let's get started.
The Cycle of Creation: Simplified
Discovering Your Purpose
Understanding and connecting to your internal self.
+
Integrating Your Life
Achieving harmony between your emotional needs and your everyday existence.
+
Choosing Your Challenge
Your best choice or best course of action based on your priorities.
+
Understanding Your Biases
Diminishing negative inclinations or prejudices for or against people and things.
+
Building Your Wave
The compounding effect of combining good decisions with great execution.
+
Manifesting & Sharing Your Ideas
Bringing your ideas to life in the modern world.
CLICK HERE TO PREVIEW OUR UPCOMING BOOK
THE AGE OF IDEAS: UNLOCKING YOUR CREATIVE POTENTIAL
Start your journey today