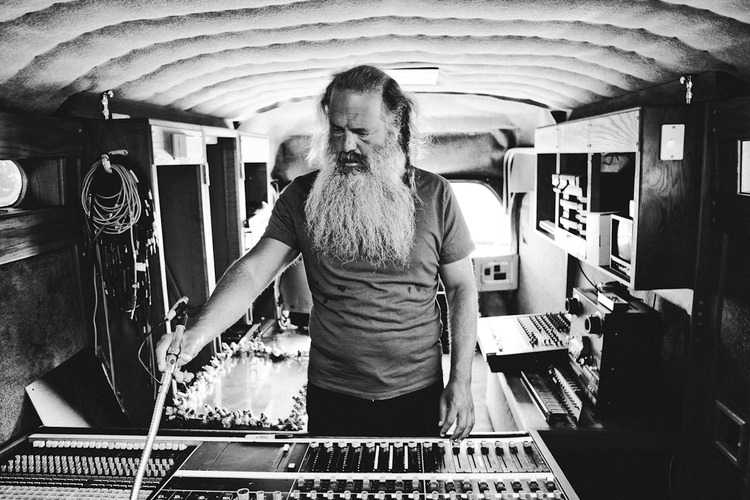 Discovered, Not Manufactured
"People are so different. It's almost like you need to go through the process, discover and unlock what it is that makes that band that band. And a lot of times they don't know it."
In early 2013 Kanye West asked legendary producer and Def Jam Records co-founder Rick Rubin to help complete his new album Yeezus. With 5 weeks to meet West's deadline and a rough cut of 16 unfocused and unfinished tracks, the task was nearly impossible. West's creative process was bordering on perfectionist. He could not seem to discover the sound he envisioned. Time was running short, and though he was certain it would come to him, he had no idea how or when. He needed something, or in this case someone, who could ignite the process.
When Rubin showed up the albums rough cut ran nearly three and a half hours and the first thing he did was suggest trimming. As he explains it, "That first day, before he even asked me to work on it, I said, 'Maybe you should make it more concise. Maybe this is two albums. Maybe this is just the first half." In the studio, the two began deconstructing the tracks, unveiling the "edgy and minimal and hard" sound West had been searching for.  The duo worked for 16 days, 15 hours a day, with no time off.  With just two days left, five songs still needed vocals and two or three of them still needed lyrics.  In a final flurry of remarkable creative collaboration, West and Rubin finished those songs and the album in one two-hour session.  The final cut of the album featured 10 songs for a total length of forty minutes, less than 20% was left from the original three and a half hours of music.  Rubin had broken down West's compositions to their simplest form, leaving only the essence of Kanye's ideas and the results were epic.
When Yeezus was released it received rave reviews from music critics, many of whom named it among West's best work and commended its brash direction. The album debuted at number one on the Billboard 200 and eventually went platinum.  Yeezus was the most critically acclaimed album of 2013, appearing on 61 meta-critic top 10 lists and being named first on 18 of them.  When asked about their collaboration Kanye said, "Well I didn't reduce it. Rick Rubin reduced it. He's a reducer, not a producer."
So what is it that Rick Rubin does? How has he helped artists from the Red Hot Chili Peppers to Johnny Cash to Jay Z to Slipknot make their best music for almost half a century across such disparate genres and styles?  Producer Dr. Dre described Rubin as, "hands down, the dopest producer ever that anyone would ever want to be, ever." Ironically, if you ask Rick Rubin what a music producer does, he will tell you, "I don't know what music producers do. I can tell you what I do", and "I don't think we do the same thing."
According to Rubin the secret is rooted in self-discovery. As Natalie Maynard of the Dixie Chicks put it, Rubin "has the ability and the patience to let music be discovered, not manufactured," or to use our terminology, the understanding that magic needs to come from within. Rubin describes the process similarly saying, "We try to go on a journey and let the artist discover who they are and in the process the best art comes from them. Its like getting to be their true selves and trying to take away all of the things [that get in the way of the creative process]."  This discovery process involves less doing and more listening, which Rubin says is vital to the process. As he explains it, "Many people don't listen," and "if you listen carefully, people explain to you what it is that they need. I'll spend time with an artist and listen very carefully to what they tell me and get them to talk about their true goals, their highest, highest goals," he continues by saying, "We'll go back to the heart of why they started doing what they are doing in the first place." This combination of the internal emotional journey and the practical skill of making music, or as Rubin describes it "heartwork" and "headwork", is how he has sustained his craft across genres and tastes for so many decades. He taps into something far beyond the type of music or production style, and instead connects to the artist through a first principal truth, that their greatest work, their magic, can only come from manifesting a reflection of their true self.