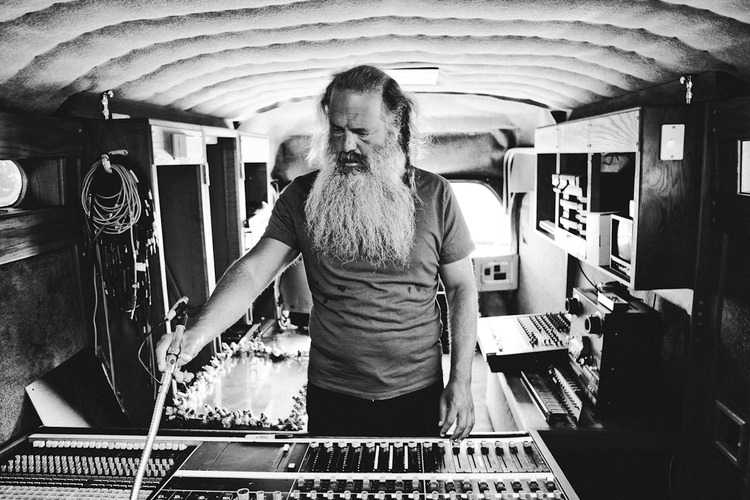 Discovered, Not Manufactured
"People are so different. It's almost like you need to go through the process, discover and unlock what it is that makes that band that band. And a lot of times they don't know it."
In early 2013, Kanye West asked legendary producer and Def Jam Recordings cofounder Rick Rubin to help complete his new album, Yeezus. With only weeks to meet West's deadline and a rough cut of sixteen unfocused and unfinished tracks, the task appeared nearly impossible. West couldn't seem to create the sound he'd imagined, and his process bordered on perfectionism. Though he was certain it would come to him, he had no idea how or when. He needed something, or in this case someone, who could reveal his vision.
When Rick Rubin showed up, the album's rough cut ran nearly three and a half hours. In the studio, the two began deconstructing the tracks, unveiling the "edgy and minimal and hard" sound West had been searching for. The duo worked for sixteen days, fifteen hours a day, with no time off. With just two days left, five songs still needed vocals, and two or three of them still needed lyrics. In a final flurry of remarkable creative collaboration, West and Rubin finished those songs and the album in one two-hour session. The final cut of the album featured ten songs for a total length of forty minutes—less than 20 percent of the original three and a half hours of music. Rubin had broken down West's compositions to their simplest form, leaving only the essence of his ideas, and the results were epic.
When Yeezus was released, it debuted at #1 on the Billboard 200 and eventually went platinum. Yeezus was the most critically acclaimed album of 2013, appearing on sixty-one Metacritic top-ten lists and named #1 on eighteen of them. Critics commended its brash direction. When asked about their collaboration, Kanye said, "Well, I didn't reduce it. Rick Rubin reduced it. He's a reducer, not a producer."
Rick Rubin grew up in Lido Beach, New York, not far from JFK Airport. His father, Michael, was a shoe wholesaler, and his mother, Linda, a housewife. In 1982, during his senior year of high school, he founded Def Jam Recordings and formed a punk-rock band called Hose. Using his high school's equipment, he recorded a Hose track that would eventually become Def Jam's first release. Hose played punk clubs in New York City, the Midwest, and California, but broke up as Rubin's interests shifted more toward hip-hop. In 1994, Rubin and DJ Jazzy Jay of Universal Zulu Nation coproduced Rubin's first hip-hop single, "It's Yours," for the rapper T La Rock. As the song started getting played in clubs and on the radio, Rubin's music found a fan in Russell Simmons, who was making a name for himself as an artist manager and concert promoter. Rubin convinced Simmons to join him at Def Jam, and the pair was soon holed up in Rubin's New York University dorm room, sifting through demos of aspiring rappers in between Rubin's classes on philosophy and film.
In late 1984, Def Jam scored its first hit with LL Cool J's song "I Need a Beat," selling over 100,000 copies. His first album, Radio, would be the first Rubin "reduced," and it would go platinum. Next would be the Beastie Boys' Licensed to Ill. It would go ten times platinum, selling over ten million copies, cementing Def Jam's reputation.
Rubin literally didn't miss a beat from there. Def Jam was at the forefront of introducing hip-hop music into popular culture, with the discovery of Run-DMC and Public Enemy. At the same time, Rubin began exploring his own eclectic tastes. He produced an album by heavy-metal band Slayer and followed that by pairing Run-DMC with Aerosmith on the trailblazing track "Walk This Way."
In the late eighties, Rubin decided to head to Southern California. While it was the end of his involvement with Def Jam, it only led to an even bigger impact on the world of music and culture. After his relocation, Rubin produced the Red Hot Chili Peppers, Johnny Cash, the Black Crowes, Jay-Z, Danzig, the Dixie Chicks, Tom Petty and the Heartbreakers, Metallica, AC/DC, Aerosmith, Weezer, Linkin Park, the Cult, Neil Diamond, Adele, System of a Down, Rage Against the Machine, Lana Del Rey, Lady Gaga, Shakira, Ed Sheeran, and Eminem. Producer Dr. Dre described Rubin as "hands down, the dopest producer ever that anyone would ever want to be, ever."
Ironically, if you ask Rick Rubin what a music producer does, he will tell you, "I don't know what music producers do. I can tell you what I do."
So, what is it that Rick Rubin does? How has he helped artists make their best music for almost half a century across such disparate genres and styles? The secret seems to be rooted in self-discovery. As Natalie Maines of the Dixie Chicks put it, Rubin "has the ability and the patience to let music be discovered, not manufactured"—or, to use our terminology, he has the understanding that magic needs to come from within.
Rubin describes the process similarly: "We try to go on a journey and let the artist discover who they are, and in the process the best art comes from them. It's like getting to be their true selves and trying to take away all of the things [that get in the way]."
This discovery process involves less doing and more listening, which Rubin says is vital to the process. As he explains it, "I'll spend time with an artist and listen very carefully to what they tell me and get them to talk about their true goals, their highest, highest goals. We go back to the heart of why they started doing what they are doing in the first place."
This combination of the internal, intangible emotional journey and the practical skill of making music, or, as Rubin describes it, the "heartwork and headwork," is how he's sustained his craft across genres for so many decades. He taps into something far beyond the type of music or production style, and instead connects to the artist through a first-principle truth: that their greatest work can only come from manifesting and sharing a reflection of their true purpose
Start your journey today