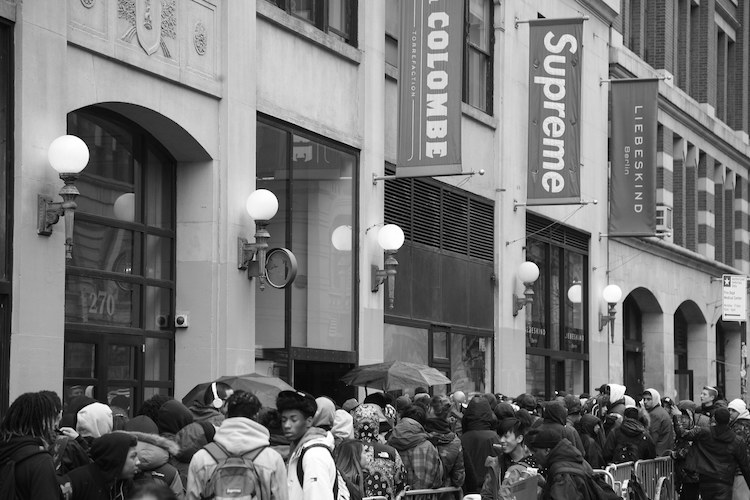 Create or Cash In? The Story of Supreme.
"I've seen that staying true to what you do best has played a major role in our longevity. I would like people to see that we're a small, independent skate company that has done our own thing, in our own way, over many years, and will hopefully continue to do so."
In 1994 James Jebbia found a vacant storefront with cheap rent on Lafayette Street – then an empty part of Manhattan – and decided to open a store selling "skater stuff." He didn't know of any good skate shops left in New York City and was excited by the "powerful and raw" energy of the skater brands he saw at fashion tradeshows. As he explains, "It needed to be an authentic skate shop that hardcore skaters would appreciate, but just as importantly a shop that people who didn't skate would be intrigued by. And that's pretty much how it went down." Supreme was born.
James knew what he didn't know, and in this case he knew he wasn't a skater, so his first and most important hire was Gio Estevez. It was Gio who hired most of the team at Supreme. They were the people he knew and trusted: his fellow skaters. The team is what legitimized Supreme, and from the first day, the store was swarmed by the skate community, generating immediate and genuine authenticity. But even so, sales started off very slow. Supreme was more of a hang-out for skaters than a retail shop. Had James been shortsighted, he might have killed that vibe, but instead he embraced it believing that having the skater community would lead to everyone else becoming customers as well. Humble enough to let his team take center stage, his approach fostered the brand's organic growth and enabled him to stay behind the scenes focusing on what he was best at: finding "good stuff to sell."
James Jebbia's vision and patience paid off. When Supreme started becoming popular, the skaters always came first and everyone else could wait. And since then, that's what everyone else continues to do. Twenty-plus years after their quiet opening, huge lines and crowds are the expectation at Supreme. The only difference now is that their customers line up and gather not only in New York but at their ten stores strategically placed around the world, six in Japan and the rest in Los Angeles, London, Paris, and New York City. Not only has Supreme collaborated with an eclectic selection of the world's best brands such as Louis Vuitton, Nike, Comme des Garçons, Hanes, Levi's, and White Castle, they have managed to turn skateboards into collectable works of modern art. Supreme has released skateboard decks featuring the works of some of the world's most recognized and relevant artists, including KAWS, Jeff Koons, Richard Prince, Damien Hirst, Takashi Murakami, and John Baldessari. Why would artists who sell works for millions of dollars make a $150 skateboard for Supreme? Well, according to James Jebbia, "if the project is really good and feels like a good fit, your approach is sincere and you're not trying to screw anyone over, people are quite open to doing things, no matter how large or established they are."
At Supreme they do things their way, with little if any concern for how the rest of the fashion industry operates. Instead of releasing their new collections all at once, Supreme releases a small number of items at a time, usually somewhere between five and fifteen. The "drop," as they call it, occurs online at 11 A.M. local time in America, the UK, and Japan, usually selling out in minutes. While many people believe this strategy is about building hype, the truth is that short runs of product were actually born out of not wanting to saddle their business with excess inventory. The strategy was discovered, not manufactured.
As a result of this strategy, there's now a huge secondary market for Supreme. Do a quick search of Supreme on eBay and you'll understand. The skateboard decks they created with artist Damien Hirst that sold for $150 each in limited quantity are now on sale as a set on eBay for $10,000. And on a recent visit to a consignment sneaker shop in New York, I spied multiple basic-colored jersey sweatshirts with the Supreme logo selling secondhand for five times the retail price less than a month after they were released. There was even a members-only website called Strictly Supreme, where brand zealots trade rumors and merchandise, and invitations to join were almost as hard to get as the clothes themselves. Once again, this wasn't the result of some contrived marketing strategy; instead, it came out of an obsessive desire to serve the needs of the business and the customer. James Jebbia explains it by saying, "The most important thing for us is having great products in the store that we hope people will like, that they buy, that sell out, and we keep it moving." Meaning it's far better to make less money but be sold out than to take on excess risk just to increase your short-term profits.
Most businesses have the goal of getting as big as possible, but they don't really know why. Supreme, on the other hand, strives to remain underground and boutique, growing only when they deem it will enhance the brand. As style writer Glenn O'Brien put it, "Supreme is a company that refuses to sell out." But why? Well, first off, because it wouldn't be authentic to who they are, what they do, and what they're into. For instance, when asked why they wouldn't expand into women's wear, James simply replied, "It's not what we know." And that's all they've done: manifest an authentic reflection of their core beliefs with unyielding discipline. Why sell short runs of product? So they didn't have excess inventory. Why hire skaters to run the store? So they can honestly connect to the community. Why work with artists on the decks? Because they, like art and think it would be really cool.
Supreme is an authentic manifestation of James Jebbia's life experiences and passions. It just happened that his passion for "cool and unusual things for young people" was in harmony with the global youth movement that his brand has come to represent. While they could easily release more product, open more stores, sell out to a global conglomerate, or generate more profits, they have instead made the conscious choice to enjoy and protect the energy they worked so hard to cultivate. Supreme has magic because it's honest and good, and that magic continues to grow because they have the discipline to focus their resources on creating rather than cashing in.
Start your journey today