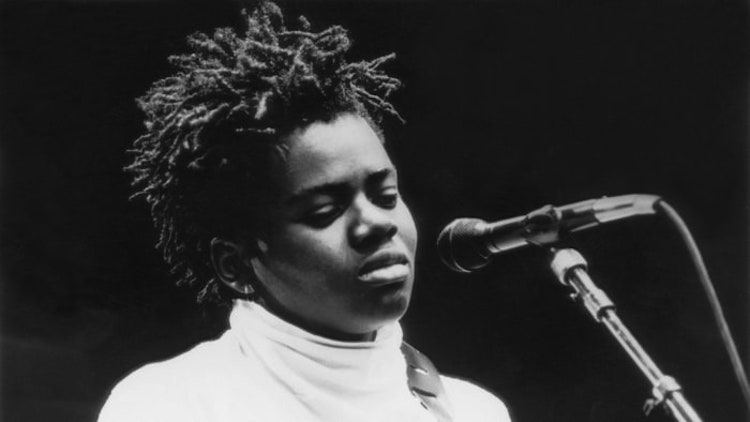 Tracy Chapman Reflect Yourself
"Songwriting is a very mysterious process. It feels like creating something from nothing. It's something I don't feel like I really control."
Tracy Chapman was born in Cleveland, Ohio. Deserted by her father, she and her sister were raised by her mother, Hazel. Chapman was a quiet child and liked to be by herself. It was her mother who recognized her love of music, buying her a ukulele when she was just three years old. But this love wasn't fully realized until she was around eight years old. Tracy was captivated by a country music television show, which led her to ask her mother for a guitar. The instrument harmonized with her soul. From the minute she received it, she has been writing her own songs, expressing her emotions through lyrics and chords.
Tracy's neighborhood was rough. Her school had a metal detector at the door. According to her, "At times, it was a terrifying place to be." To say she wanted to get away is an understatement. When she was thirteen years old, the Ohio school system began integrating black and white students into mixed race schools. Tracy was attacked, beaten, and almost killed by a group of white students. One time "they shouted racial slurs at me. I responded to them and they got really pissed off. They turned around and started beating me up. One guy in particular. It was snowing and he knocked my books to the ground. Anyway, eventually we broke apart and he reached into his boot and pulled out a gun. He told me to run, otherwise he was going to shoot me. I don't know why he didn't. My friends had taken off by this time. There were people watching from their windows but they didn't do anything either." The experience caused her serious trauma, a pain she would later recount in her music, but it also led to her pursuing a scholarship to a boarding school in Connecticut. A move that Chapman said "ultimately saved her life."
After her escape, Tracy's love for music continued to grow, and when she went to Tufts University she became a familiar performer with a strong local following. Eventually, Brian Koppelman, the now famous writer and podcaster, discovered Tracy. Brian, whose father was in the music business, was also a student at Tufts in 1987. He "was helping organize a boycott protest against apartheid at school, and someone told me there was this great protest singer I should get to play at the rally." He went to see Tracy perform at a coffeehouse. From that moment, his life would never be the same. "Tracy walked onstage, and it was like an epiphany," he says. "Her presence, her voice, her songs, her sincerity — it all came across. It was immediately clear to me that she was among the most gifted people walking the earth."
Koppelman connected with Tracy after her show and said, "I have been managing bands since I was 13, and producing demos, and working in record companies every summer. And I really have worked to be my own person, but you're so extraordinary, I think my dad can help you, and we should find a way to do something together." Tracy responded by saying she would play the rally but wasn't really interested in anything else.   She played the rally. And when Brian heard her the next day, he realized she was even better than he'd thought the night before. He was intoxicated by the honesty of her music; every time she performed people would leave in tears at the beauty, talent, and raw emotion.
Brian continued attending Tracy's shows wherever she went, finding himself in coffeehouses, lesbian bars, anywhere and everywhere she went. Tracy kept talking with him, but she declined to cut any demos for him. So Koppelman hatched a plan; he found out that Tracy had recorded some demos at the university radio station for copyright purposes, so he snuck into the broadcast booth and, while his friend distracted the DJ, stole the demo and made a copy onto a cassette. The demo had only one song: "Talkin' Bout a Revolution." Koppelman sent the tape to his father, who was co-owner of a large music publishing company, and his father immediately flew up to Boston to see Tracy perform and eventually ended up signing her.
Every label Brian took the demo to turned them down, except one: Elektra. They signed Tracy, but had little expectation that her music and image could make her a commercial success. Tracy was cautiously optimistic. "I have to say that I never thought I would get a contract with a major record label," she told an interviewer shortly after her first album's release. "All the time since I was a kid listening to records and the radio, I didn't think there was any indication that record people would find the kind of music that I did marketable. Especially when I was singing songs like 'Talkin' Bout a Revolution' during the Seventies. . . . I didn't see a place for me there." Most of the industry agreed with her assessment. Even once she was signed, over a dozen producers refused to work with them on the album.
Eventually producer David Kershenbaum accepted the project. Chapman's greatest concern was that the integrity of her songs remain intact. "She said right off the bat that she wanted the record to be real simple," says Kershenbaum. "I wanted to make sure that she was in front, vocally and thematically, and that everything was built around her." Every song on the album, with the exception of "Fast Car," was on the demo. Tracy played "Fast Car" during her first meeting with Kershenbaum, and he loved it the minute he heard it, saying, "It was the most heartfelt song on the album, as far as people relating to it and visualizing what the songs were."
The album took eight weeks to record. When they played it for the executives at Elektra there wasn't a single person in the room who didn't say they loved it. There also wasn't a single person in the room other than Brian and his father who thought it would sell more than 50,000 copies. The industry believed the market only wanted what had been successful in the past. They couldn't have been more wrong. Tracy Chapman was released on April 15, 1988, and went on to sell thirteen million copies. It's ranked number ten on Rolling Stone's one hundred best albums of the eighties, and that year Tracy won the Grammy for Best New Artist and Best Female Pop Vocal Performance, among countless other accolades.
The beauty, quality, meaning, and deeply personal nature of Tracy's music, which had clearly resonated with so many individuals, did so in exactly the same way with the larger audience. While she didn't fit into any clear category, the fact that she was different and had manifested a deeply personal message resonated powerfully with the world. Tracy was recently asked what advice she might have given herself twenty years ago, and she responded, "…it really is okay to be yourself…. If you are living a life that feels right to you, if you're willing to take creative chances or a creative path that feels like it's mostly in keeping with your sensibilities, you know, aesthetic and artistic, then that's what matters."
Tracy manifested a reflection of herself. Whether it was the kids in Ohio or record executives in New York, she never allowed them to convince her to be something she wasn't. That fierce commitment to her true self and her vision made the music magical. She didn't go out and say I want to be a star, sell albums, and make money. She made music that meant something to her, that represented her life experience, and that authentic spirit resonated with Brian Koppleman and eventually the world. In the process, she fulfilled both her internal needs, and her external commercial needs, by selling a ton of music. As with Tracy, your magic lies within you, and the key to getting it out is having the bravery to manifest the most honest reflection of yourself.
Start your journey today