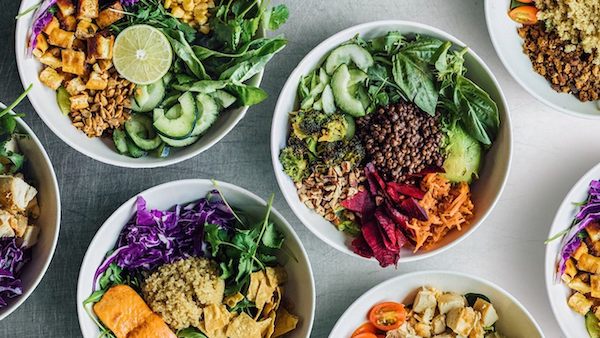 Podcast #7: The Creator's Formula: Sweetgreen & Harry Bernstein
"Everybody has a creative potential and from the moment you can express this creative potential, you can start changing the world."
CLICK HERE TO LISTEN TO THE PODCAST
The greatest challenge individuals and organizations will face when attempting to manifest their creative potential is not a lack of talent or resources—it's a lack of understanding. Even when people believe in the intangibles, they don't understand how they function, or they significantly undervalue them. That puts those who do understand in the precarious position of needing to change people's opinions before getting support—not an easy task. While it is well documented that individuals and organizations that achieve greatness think independently, achieving your goals while fighting constant opposition takes a combination of bravery, confidence, and perseverance that is difficult to develop and exhibit consistently.
It was my own frustration in constantly explaining the value of intangibles that led me to write down these thoughts, intending to increase understanding by creating a coherent explanation of this transformative perspective. The next step in that process is to create a simple framework that can guide individuals and organizations on their journey to unlock their creative potential—what I call the Creator's Formula. It's a set of skills and conditions that must be in place for you to realize this value. The first step is to gain a clear understanding of what each of the elements are and how they work. Then you can begin experimenting with the formula. This will help you build trust in your creative process and eventually harness it for your individual or organizational benefit.
Like most formulas, it requires an investment of time and energy to understand the subject matter behind the formula presented. For example, Einstein's theory of relativity, e=mc2, means nothing without a basic knowledge of physics and mathematics. In our case, the more self-aware you become and the more you practice the art of manifesting—making the intangible tangible—the more effective the formula will become. Think of it as your guide to the process of discovering and sharing the best version of yourself or your organization. A guide that gives you permission to experiment, trust your instincts, and, most importantly, take the right chances that will lead to previously unimaginable results and fulfillment.
The Creator's Formula is made up of four key elements: defined purpose, experienced creativity, flawless execution, and emotional generosity.
We've already seen it at work in the stories of Supreme and Ian Schrager.
Now it's time to explore the formula in detail, illuminating the four key elements, while meeting other creative people whose vivid journeys embody the real-world application of the formula.
CLICK HERE TO LISTEN TO THE PODCAST
The Creators Formula
Purpose
The why behind everything you do. What drives you, what makes you different, your essence.
+
Experienced Creativity
The ability to manifest your breed of creativity consistently over a sustained period of time.
+
Flawless Execution
When a product or service is the ideal manifestation of its purpose.
+
Emotional Generosity
Understanding the needs of others and being willing to put them ahead of your own selfish desires.
=
Personal Fulfillment & Professional Achievement
Purpose
A master in the art of living draws no sharp distinction between his work and his play; his labor and his leisure; his mind and his body; his education and his recreation. He hardly knows which is which. He simply pursues his vision of excellence through whatever he is doing, and leaves others to determine whether he is working or playing. To himself, he always appears to be doing both.
– Lawrence Pearsall Jacks, philosopher
The secret to a fulfilling life is to discover what excites you, what you love to do, and then spend your days passionately pursuing, sharing, and manifesting that purpose with all your heart. And purpose is exactly that—it's "the reason for which something exists." It's the why behind everything you do. But despite the fundamental importance of purpose, most individuals and organizations are not fully in touch with it, and, worse, have no conscious desire to figure it out.
This is because most organizations are focused on practical elements—what they do ("we sell gym equipment") and how they do it ("through our website and retail stores"). But what really unlocks your creative potential is getting in touch with the purpose behind what you're doing. Author Simon Sinek describes this beautifully in his TED Talk "How Great Leaders Inspire Action," stating that "Instead of asking, 'WHAT should we do to compete?' the questions must be asked, 'WHY did we start doing WHAT we're doing in the first place, and WHAT can we do to bring our cause to life considering all the technologies and market opportunities available today?'"
In today's market, anything that isn't differentiated through creativity or a 10x technology will be immediately commodified by the industrial system. The only way to sustainably incite your audience to take action is to inspire them with meaningful purpose. This makes purpose the holy grail of unlocking your creative potential.
Once you discover your purpose, the goal becomes to live it in all aspects of what you do. This is the integrated life, a life in which there's no difference between work and play; there's only your purpose and what you're doing at that very moment to live that truth, wholly and completely. The closer you get to that point, the closer your entire life comes to being an actualized existence, and the more likely you will enjoy many more of Maslow's peak experiences.
For an example of manifesting through purpose, let's look at the restaurant group Sweetgreen. Founded in Washington, D.C., in 2007 by three college students, Sweetgreen is a fast-casual restaurant chain that describes itself as "a destination for delicious food that's both healthy for you and aligned with your values." The Sweetgreen statement continues, "We source local and organic ingredients from farmers we know and partners we trust, supporting our communities and creating meaningful relationships with those around us. We exist to create experiences where passion and purpose come together."
Notice how the messaging combines what Sweetgreen does practically with what it does emotionally? The last line informs readers that Sweetgreen's goal is to "connect people through experiences that combine passion and purpose." While Sweetgreen specializes in serving healthy salads and grain bowls, there are dozens of salad and health food restaurant groups that do the same. It is Sweetgreen's commitment to their higher purpose that sets them apart.
Through this purpose Sweetgreen has become more than a restaurant—it's become a movement and a community, one that people are so proud to be a part of that they share Sweetgreen content on their social feeds and wear T-shirts emblazoned with the restaurant's logo. The founders remain committed to their differentiating core values, such as "creating solutions where the company wins, the customer wins, and the community wins," and have used those values, rooted in their purpose, to drive the company forward. This led Sweetgreen founders to make choices that weren't always necessarily best on a short-term financial basis but which aided the business and its stakeholders over the long term. For example, when their second store wasn't performing well, the founders purchased a giant speaker, placed it outside facing a park, and threw a block party. They played great music while handing out menus and building individual relationships with community members. This approach, driven by sharing their love of food and music with their community through an experience that combined passion and purpose, eventually led to an annual multiday concert series, the Sweetlife Festival. 2017's festival was attended by 20,000 Sweetgreen devotees and, even better, all the proceeds went to benefit their "Sweetgreen in schools program," which teaches local kids about health, fitness, and sustainability.
The crowds aren't coming to Sweetgreen stores and the festival simply for great salads or cool music acts. They're coming because they buy into what Sweetgreen stands for, and because, on a deeper level, they feel a reflection of themselves in Sweetgreen's purpose—which is itself an honest manifestation of what the people behind the business believe and what they stand for.
Now that you understand what purpose is and why it's important, ask yourself these questions: Who are you? What makes you, you? Why do you do the things you do? What's important to you? What defines you? When you have nothing else going on, what are you thinking about? If money or resources weren't an issue for you, what would you do? What's unique about the way you perceive the world? What did you enjoy doing naturally, before the world began telling you what you should be doing? Who did you need to be to receive the love of your parents? These questions will start you thinking about your purpose, and we'll complete this process of discovery in part three of this book. Until then, let's explore the next component of our formula: experienced creativity.
Experienced Creativity
Make them laugh, make them cry, make them say 'oh shit.' These are the three things done by creative.
– Harry Bernstein, founder, The 88
Creative agencies are as ubiquitous as coffee shops. Ask any unemployed millennial about their aspirations and don't be surprised if they say they'd like to start a creative agency. In a world where the tools to create and share are available to everyone, the definition of what makes creative work high quality and effective has become unclear. After all, if you have a novice understanding of Photoshop, a Squarespace account, and a few hundred social followers, you can start your very own creative agency right now. While this shift is wonderfully empowering, like all blessings, it's also a curse. Creative work presented without consideration is our kryptonite. It feeds the skepticism and lack of understanding surrounding the value of creative work. Manifesting creativity consistently requires a more refined skill set and approach, one developed over time through practices and systems similar to those of a great athlete, trader, or violinist. I call this brand of creativity experienced, and define it as the ability to manifest consistent, high-quality creative outputs over a long period of time.
CLICK HERE TO LISTEN TO THE PODCAST
As a chief marketing officer, it's my role to source, hire, and manage creative agencies. This gives me a unique perspective on how these entities operate and what differentiates the greats from the not-so-greats, the experienced creative from the amateur freelancer. The democratization of creative and communication tools has made the ability to define and determine the value of creativity extremely difficult. But the ability to differentiate the good from the bad and find the experienced creativity is a critical element of the Creator's Formula.
Harry Bernstein is an experienced creative. He's been changing the world with his mind quietly and consistently for years. Harry—or Harry Bee, as he's known—is the chief creative officer of Havas New York, an agency that acquired him along with his digital agency, The 88. Harry is deeply intelligent, highly emotional, and overwhelmingly passionate. His speech is quick and choppy, as his mouth struggles to keep up with his mind. His heavy New York accent is a clue to his deep connection with the people and culture of the city. In recent years, all this has blended with marriage and fatherhood to make Harry his best creative self. His years of struggle both personally and professionally have produced a polished gem, a New Age digital philosopher using content, strategy, and creative expression—plus colorful clothing and a substantial beard—to share his beliefs with his myriad followers.
Harry and his team were a major force in the return of Adidas to relevance, launching the incredibly successful NMD line and overseeing the marketing for the Adidas Originals brand. He has also applied his talents to Coca-Cola, W Hotels, Belvedere Vodka, Bloomingdale's, Y-3, the CFDA, Supreme, Pace Gallery, and L'Oréal, among others. But he wasn't always a cultural rainmaker. Harry started out as the child of blue-collar parents in Queens, New York. His father drove a truck for the Department of Sanitation and his mother was a secretary for the Department of Education. Harry got a lucky break his senior year of high school when he got accepted into a program giving him "real-world experience" at an advertising agency. From there, he went to the Fashion Institute of Technology and the School of Visual Arts to continue developing his creative skills.
Prior to starting his own agency, Harry worked for over a decade in the agency world. "I began my career in traditional advertising," he tells me. "In '99, I worked at Ogilvy & Mather, which is a very big ad agency, working on clients like IBM and AMEX. Very blue-chip stuff. Then I quit doing traditional advertising and worked at Berlin Cameron, a small agency, working on things like Boost Mobile. We did a lot of stuff with rappers—Young Jeezy, Fat Joe, Eve. I did Vitamin Water's first TV campaign before they were bought by Coke. My final big client there was Belvedere Vodka, and I did a campaign with Vincent Gallo. After Belvedere, I wanted to try something different. I was actually in Atlanta with Young Jeezy. We were talking about Belvedere, and he was like, 'Harry, my fans don't care about ads. My [followers] look at me in the club. [Me] drinking Belvedere in a club—that's going to do more for you than a TV commercial. They want what I do, not what's in these ads.' I thought, 'Oh, that's interesting.' I had never thought of it that way."
In 2010, Harry decided to launch his own agency, aiming to capitalize on the potential of the digital landscape, specifically combining content and strategy with digital distribution channels to "identify trends in consumer behavior and align brands with them. Building brands within culture, not outside of culture."
CLICK HERE TO LISTEN TO THE PODCAST
If you met Harry in the first half of his life, the success he's now discovered wouldn't have been entirely predictable. He has always been different, testing what worked and what didn't for him. Harry has always stood out by embracing his true self. He's made a conscious choice to be himself above all else, something reflected in how he operated his agency, which featured on-site farmers markets to encourage healthy-eating for employees, and holiday parties with performances by classic rappers like Mase and Ja Rule. As his mentor Richard Kirshenbaum explained it, "One of the first great lessons I ever learned about being creative is that if you don't embrace who you are and bring your own accent or flavor to your work, you can never truly be creative, authentic, or original." Without a doubt, Harry is an original.
While this may have been one of the first lessons Harry learned, he's learned many others over twenty years as a creative professional. And those lessons, that dynamic process, mark the difference between basic creativity—a talent we all possess—and experienced creativity: the ability to consistently and professionally manifest creative output over a long period of time. You see, every creative project Harry worked on was a lesson, one that made him more attuned to the subtleties of his process and the needs of his work and clients. He began to intuitively recognize the types of people he wanted on a project, how to deal with people who just didn't get it, and when to open his brain to relaxation so he could welcome new ideas and inspirations. And as he became more attuned to those needs, his brain became better at putting the pieces together and connecting seemingly unrelated elements into new ideas. He also became better at putting together the elements and people who would create the best conditions for unlocking the value of ideas.
Harry shared with me the secret to his creative success, what he feels has helped him evolve into an experienced creative: mindfulness, inspiration, sacrifice, and empathy. These make up the core of his creative practice and have helped him hone his vision and quiet his insecurity. They've enabled Harry to "build a life that creates the opportunity to do great work." As Harry says, "What you put in, you get out," so your inspiration—which he describes as what you consume through your ears, your eyes, your nose, your mind, and your mouth—must be considered, because it's the fuel for whatever it is you intend to put out in the world.
Harry combines this "inspired consumption" with a mindfulness practice that helps him connect more deeply to his inner self. He meditates, which allows him to be "more in the moment and connected," to get more out of his interactions. "Without meditation, I think you are just a robot. You aren't absorbing anything, you're just reacting to messaging being pounded against your eyes, ears, nose, mouth and tongue. Focusing on that, and grounding myself—things start to stand out more."
CLICK HERE TO LISTEN TO THE PODCAST
Harry combines these pillars in practice with sacrifice and empathy. Another one of his advertising mentors, Michael Ian Kaye, founder and creative director of Mother New York, taught Harry the value of sacrifice. Kaye used to tell Harry, "Do what you have to do to do what you want to do." Harry explained to me that he feels you must give things up in the short term to get what you want in the long term. There's no gain without sacrifice—you'll never do the work you truly want to do if you don't develop the skill set you need today.
This led Harry to the heart of his philosophy, the notion that "ideas come in the doing: learn it, to know it." Your experiences, in other words, have a significant impact on your ability to create great work, to expand what you're capable of. You don't have to do every job every day, but you must experience something a few times to deeply understand what's going on and how to make it better. For example, you can't communicate effectively with a designer if you can't understand the designer's perspective, and you can't sell sneakers on the streets of New York unless you yourself have spent time buying and selling sneakers on the street. To understand the perspective of another person, you must empathically experience their world; you must connect to their emotions and walk a moment in their kicks.
Like shooting a basketball or playing a guitar, being creative— the miracle of forming something new and valuable through action or thought—must be practiced, no matter what the medium of expression. In studying the formation of exceptional skill, author Malcolm Gladwell was struck by the colossal amount of practice, close study, and emotional dedication that went into developing greatness. He came up with the 10,000-Hour Rule—his estimate for the number of practice hours the masters of a chosen skill, art, or sport put in before they become world-class.
Even child prodigies log countless hours and exhibit extraordinary focus. Michael Jackson didn't just wake up one day and create 13 number-one hits and sell 400 million records. Wolfgang Amadeus Mozart didn't just produce 600 works overnight and suddenly become the most prolific and influential composer of the classical era. They learned and they worked, they failed, and eventually they reached a level of success that has ensured their work would stand the test of time. When I refer to experienced creativity as a critical part of manifesting your ideas, I'm pointing to the need for creativity that has been steadily practiced through years of experimentation; whether or not you're a prodigy, that's what it takes to reach your potential.
CLICK HERE TO LISTEN TO THE PODCAST
Experienced creatives develop the ability to manifest their breed of creativity consistently over a period of time. Simply put, it's the difference between a one-hit wonder and Michael Jackson. A person might get lucky once—come up with a great idea, write a great line, hum an interesting tune—but to manifest your creative potential, you must be able to produce consistent creative results over time. The secret recipe for this phenomenon is to develop your systems and instincts while still being able to see the world with the naïveté and wonder of a child. You must have all the information available but be willing to go against the prevailing wisdom, to be wrong at times, to embrace your fear, or, as my wife says, to "not give a fuck."
Being an independent thinker is the opposite of what we're taught by most organized groups, from preschool classes to our teams at work. We feel comfortable in communities, so we encourage the group dynamic and fitting-in above individuality. But creativity and innovation require that you trust yourself and go against the group—that you think for yourself. Nothing truly innovative, visionary, or creative has ever come out of a group of people sitting in a boardroom giving their opinions on an idea, especially when the market is demanding authenticity. As Harry explains: "Build your own world. I don't care about the numbers game…. Most of the people copy and emulate to get popular. As a young professional creative, don't go for the numbers, create your own point of view."
Trusting yourself enough to go against the grain, to do something that's truly a reflection of your purpose, isn't what we're taught. It only comes when we've gained enough experience to choose our own path, trust our instincts, and create from within. That's what it means to be an experienced creative.
CLICK HERE TO LISTEN TO THE PODCAST
Start your journey today