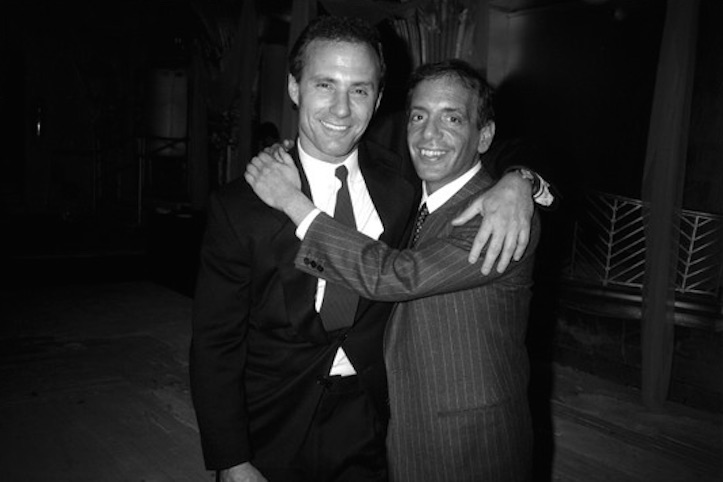 Podcast #3: Ian Schrager & the Value of Creativity
"Making the spirit soar and making somebody sort of lift off the ground and fly is about creating magic. People ask me about magic and what it is; it's very difficult for me to say. If I knew I would write a book and sell the book. And that magic, that very elusive kind of thing, is what I try to create at these hotels."
As we pulled up to the porte cochère, I remember being thrilled. The entrance to the Delano had a magnitude and energy I'd rarely, if ever, experienced before. The valets were all perfectly dressed in crisp white outfits, the people getting out of their cars were beautifully put together, and the architecture was the perfect combination of classic Art Deco and clean modern lines.
While the arrival alone was magnificent, it wasn't until I entered the lobby that I was swept away: fifty-foot ceilings, a straight-shot visual hundreds of feet from the entrance to the rear orchard, and charming vignettes of whimsical seating and social areas throughout. The beauty was unmistakable, and the energy was so real you could almost drink it. Every step I took built on the drama of the experience. By the time I exited the lobby and stepped into the orchard, I felt changed, as if my appreciation for what the imagination could manifest had been heightened. I didn't say a word for ten minutes after I walked outside. I just smiled, completely satisfied by what I had just consumed.
While the experience was powerful, as in many meaningful moments, I wasn't fully aware of how this night would affect me. I definitely wasn't aware I would end up spending over a decade of my life involved in different ways with this company, crafting new ideas, creating even more magical experiences. What I did know, without a doubt, was that I had tasted fully realized creative potential. And once I knew it existed, how could I live without realizing my own? So I began my research at the source: Ian Schrager, the iconoclastic creator of Delano.
Schrager, like Maslow, was born in Brooklyn to a working-class family. Unlike Maslow, he had a close relationship with his parents, especially with his father, Louis, who instilled in him a strong value system. After spending his youth in East Flatbush, he headed off to Syracuse University in 1964. That's where he met Steve Rubell, another Brooklyn product, who would become his lifelong friend and business partner. An outgoing, flamboyant character, Steve was a couple of years older than Ian, but the two meshed perfectly. As Ian tells it, "We were dating the same girl, and from the way we went about competing for her, we came to respect and like each other. And the friendship just got closer and closer and closer. I would say that from the end of 1964 until Steve died in 1989 I spoke to him every single day."
After they graduated, Ian went on to practice real estate law, and Steve started a chain of steakhouses and became Ian's first client. It was about this time that Ian and Steve started going to clubs together, and they were astonished and inspired by what they saw. For the first time they were exposed to the mixing of different groups of people, the breaking down of social barriers—and the willingness of people to stand in line for the chance to spend their money. This was when Ian began to sense his desire to create. After a couple of months of going out and throwing a few parties of their own, Ian and Steve decided to open their own disco—in Queens, a borough of New York City known more for slicked-back hair and slice shops than for chic parties and celebrities.
After their first club, Enchanted Garden, was a financial success, Ian and Steve soon wanted to take the next big step: a club in Manhattan. By early 1977, they'd signed the lease for a former CBS studio and opera house on West Fifty-Fourth Street. It took them six weeks and $400,000 to transform the old theater into a nightclub. They kept much of the original infrastructure and used it to rig lighting that would constantly change the feel and create the energy needed to make the club a transformative experience.
As Schrager once put it, "With a nightclub, you have no real discernible product. You have the same music and the same alcohol as everybody else, and yet you have to create magic night after night in hopes of distinguishing yourself." On April 26, 1977, Studio 54 opened, and the world of nightlife would never be the same.
For the thirty-three months that followed, Studio 54 was the center of the universe. Ian, Steve, and their team would combine their unlimited imagination with hard work and execution to create that magic night after night. There were countless legendary moments: Bianca Jagger riding into the club on a white horse for her birthday celebration; a nineteen-year-old Michael Jackson on the dance floor with Andy Warhol, Liza Minelli, Steven Tyler, Brooke Shields, and the Village People; elaborate theme parties celebrat- ing everyone from Karl Lagerfeld to Elizabeth Taylor. The regulars at 54 included Halston, Mick Jagger, Jerry Hall, Debbie Harry, Grace Jones, Calvin Klein, Elton John, Tina Turner, Divine, Margaret Trudeau, Francesco Scavullo, Truman Capote, Margaux Hemingway, Freddie Mercury, Tommy Hilfiger, Mikhail Baryshnikov, Diana Ross, Al Pacino, Cher, Bruce Jenner, David Bowie, Iman, Salvador Dali, Diana Vreeland, John Travolta, Beverly Johnson, Lauren Hutton, Andre Leon Talley, Diane von Furstenberg, and Jacqueline Kennedy Onassis. Studio 54 was surreal. It became more than a place—it was a moment etched in time, capturing the energy of the sexual revolution in unbridled freedom and hedonism. Studio 54 was the apogee of escapism.
Ian and Steve weren't ready for the sudden explosion of energy and material success and let it inflate their egos. In December 1978, Steve was quoted in a newspaper saying that Studio 54 had made $7 million in its first year of operation and "only the Mafia made more money." Shortly thereafter, the nightclub was raided, and Steve and Ian were arrested for skimming $2.5 million without paying taxes. Charged with tax evasion, obstruction of justice, and conspiracy, they were sentenced to three and a half years in prison. In a blink of an eye, they had gone from the top of the world to the lowest place they could ever imagine.
After prison, Steve and Ian were motivated to regain what they'd lost. They opened another nightclub, Palladium, in Manhattan's historic Academy of Music building. Ian enlisted world-renowned Japanese architect Arata Isozaki to reimagine the space, and they made art the focal point of the experience, with installa- tions by Jean-Michel Basquiat, Julian Schnabel, Kenny Scharf, Keith Haring, and Francesco Clemente. It was another legendary success. While Steve was passionate about recapturing the days of 54, Ian saw another club as repeating themselves. "If you repeat yourself," he stated, "there isn't any point. I'm always looking for something else—trying to pull a rabbit out of a hat." To him, Palladium was a stopover on the way to the duo's next big challenge: hotels.
With their nightclubs, Ian and Steve had to create something out of nothing. While people love nightclubs, there's no practical need a club fulfills. Going to one is an act of desire, a want, for escape or social validation—it's all emotional. On the other hand, people need hotels; they need a place to stay, so there's a practical value. Now, instead of pulling a rabbit out of the nightclub hat every night, Ian and Steve had to figure out how to reinvent the hotel experience by adding emotional elements. "Hotels," Ian once said, "are in certain important ways, nightclubs for grown-ups….
So when Steve and I went into the hotel business, where we had a real commodity that people wanted, we didn't rely on that. Our approach wasn't, well, we have a bed. Our approach was, we want to make it something magical."
And they did. Ian and Steve knew there were no hotels cater- ing to the taste and lifestyle of their clientele. It was obvious to them that the hotel business was stale with sameness; if they could infuse art and lifestyle into this segment of commerce, they would disrupt the industry.
Their first hotel, Morgans, opened in 1984, and it was a revelation. They'd hired a designer, Andrée Putman, who had never done a hotel before, and gave her the freedom to design the experience without any rules. Every detail was considered, from art in the rooms (one-of-a-kind photographs by Robert Mapplethorpe), to the most chic bars and restaurants and avant-garde public spaces. Steve described their new hotel by saying that if a Holiday Inn or a Marriott were like Macy's or Bloomingdale's, their new hotel was like a Madi- son Avenue boutique. And just like that, the boutique hotel was born.
Following the success of Morgans, Ian went on to open the Royalton and Paramount hotels, introducing the concept of "lobby socializing," which made the lobby a dynamic city social center, and "cheap chic"—the idea of affordable luxury in a stylish environment. Next, Schrager invented the "urban resort" with Delano Miami—ironically, the hotel his parents had brought him to on their first family vacation many years before. With each hotel, he changed the per- spectives of guests and the hospitality industry on what was possible.
Since then, Ian has continued his groundbreaking, space-de- fining work with Mondrian Los Angeles, Hudson New York, Clift San Francisco, and St. Martins Lane and Sanderson in London. More recently, he launched his Edition hotel brand in partnership with Marriott, his own cheap-chic brand Public hotels, and a slew of residential real estate projects in downtown Manhattan. He has collaborated with some of the most creative designers, artists, and restaurateurs in the world, including Philippe Starck, Julian Schnabel, Herzog de Mueron, John Pawson, Yabu Pushelberg, Jean- Georges Vongerichten, and many more. Travel & Leisure magazine summed it up perfectly by saying, "Ian Schrager has done more to bring design to the travel experience than any other living person—single-handedly reinventing the hotel as a site of electrifying cultural significance."
While many say Schrager's work is about design, it isn't—it's about ideas and experiences. Ian uses the power of his ideas to tap into what he calls the "collective unconsciousness, the ethereal, elusive, and hard-to-define magic and energy." He understands the power of this intangible, emotional place and uses it to connect deeply with his customers. He knows that "the way a product makes you feel is more important than how it looks. The goal is to create experiences that people will remember, to touch them in emotional and visceral ways, to lift their spirits, to assault their senses, and to wow them in tasteful ways." But just as important, Schrager under- stands that an amazing experience can't be created from ideas alone, knowing that "good execution is just as important as a good idea." And he has consistently manifested his creative potential because he has regularly married the four key elements that create value in our new age: purpose, creativity, execution, and emotion.
Ian Schrager creates because he has to, not because he wants to. He isn't competing against anyone except himself. As he says: "It is never about the money—but instead to get people even more excited than they were the last time." And with a little help from his friend, that's how he unlocked his creative potential.
Shifting Perception
Brand is just a perception, and perception will match real- ity over time. Sometimes it will be ahead, other times it will be behind. But brand is simply a collective impression some have about a product.
—Elon Musk
Great ideas have the power to shift perception to create value where it didn't exist before. Remember when I mentioned earlier that when I created my pop-up restaurants, I was concerned people would realize they were just catering events, repackaged and marketed from a different perspective? Well, let's explore this phenomenon a little more.
For a number of years, I worked at Morgans Hotel Group, the company founded by Ian Schrager. As we just explored, Schrager gets credit for originating lifestyle, or boutique, hotels. Such hotels have a distinct design, unique story, and creatively programmed public spaces such as restaurants, pools, spas, and lobbies. But all full-service hotels have always been designed and made up of rooms and public spaces. What Schrager did when he developed the lifestyle hotel was apply his creativity—through design, story- telling, and programming—to shift the customer's perspective and produce significant value. After all, many lifestyle hotels are just underperforming hotel assets that have been repositioned using these creative elements.
After Morgans, I joined a leader in the coworking field. Coworking is an evolving idea and exploding industry, but at a basic level it can be defined as an enterprise that offers shared workplaces for people—freelancers, employees of startups, small and large companies—attracted to the community the space creates and by the coworking company's philosophy, story, and creativity. Instead of leasing buildings in a traditional manner to multiple larger tenants, coworking companies lease entire structures and then sell these leases at a higher rate to members, a/k/a tenants. A change in use, not physical form. Combine that with the intangibles of inventive branding and experiential activation, and you've transformed one of the largest industries in the world—commercial real estate—simply by changing the way people perceive it.
But does that kind of thing last? Is it sustainable? Well, let's look at the facts. In the years after my first pop-up, pop-ups became a global craze, right alongside food trucks. Pop-ups are being regularly produced by restaurant companies, magazines, culinary collectives, hotel groups, and stadiums. Additionally, the hospitality industry has taken the concepts of supper clubs, guest chefs, and theme dinners, and stitched them into the playbook guiding the operations of restaurants and other food and beverage operations. Conclusion: pop-ups are now part of the hospitality vernacular, serving multiple functions, from stand-alone profitable businesses to driving extra profits for existing restaurants to testing new concepts.
Next up, lifestyle hotels. Since the concept arrived in 1984, it has revolutionized the hotel and hospitality industry. After Ian Schrager and Morgans, we saw W Hotels, Joie de Vivre, Kimpton, André Balaz, Viceroy, Ace, and dozens more brands and thou- sands of independent hotels. As of 2015, thirty years after their creation, lifestyle hotels represented over twenty percent of the total hotel industry. Every major hotel company now has one or more lifestyle-brand offerings. Not only that, but the segment has completely changed the way non-lifestyle hotels operate, forcing the hand of the incumbents to tell better stories about who they are, offer more interesting food, beverage, and public space experiences, and implement specific design perspectives that appeal to their target clientele. And the move toward a more lifestyle-centric approach to hospitality has bled into other industries like residential apartments, fitness, and even retail.
As for coworking, while the story is still being written, there are tens of billions of dollars being invested in the industry, multiple players in every major city in the world, and a movement of free- lancers, entrepreneurs, and large companies looking for a better way to work. The complete integration of work and leisure is upon us, and coworking is one of the key solutions satisfying this cultural shift. Again, it principally offers a change in usage and a way to identify emotionally as part of a community, not a new technology or practical offering. This makes coworking a shift very much driven by branding, storytelling, and perception. Who knows how this story will end? But it seems like the way we work in the future will be changed by the effect coworking has had on the collective consciousness.
This same theory of shifting perception applies to individuals. For years, celebrities have had armies of people helping them craft very particular visions of who they are, which has generated tremendous value. For example, female teen stars are told to embrace a sexier image and take edgier roles as they get older, so their fans will begin to perceive them as adult actors and follow them as they move to the next level of their careers. Tom Cruise's team carefully crafted his image for decades, which made him wealthy and powerful. Then one day he decided to go off script on Oprah's show, jump on her couch, and make some controversial comments, which dented his carefully curated image, and cost him millions in future earnings. As the Huffington Post put it, "Though Cruise's name is still a big box-office draw, these days, he is better known for being an outspoken advocate for Scientology and for his public antics. The couch jump marked the first shift in Tom Cruise's image away from the heartthrob he'd been." Over time Cruise regained some of his lost cultural capital, but the impact was significant, and it's a vivid example of perception impacting value.
The thing is, in the Age of Ideas, regular people are able to harness the power of perception in the same way celebrities and big companies have for years. Whether on LinkedIn, Facebook, Instagram, or personal blogs, you can influence your value by affect- ing how people perceive you. And the same way an entrepreneur can change the value of a building or event by changing people's perception of it, you too can change people's perception of you through authentic storytelling.
It's critical we understand and learn from the above examples. We exist in a time that values creativity more than ever. By shifting the perception of a person, product, or place, you will significantly impact their value and how the market interacts with them. Perception is closer to reality than ever before, and your ability to positively shift perception directly correlates to how much value you can create in the Age of Ideas.
Creative Potential
Let's discuss creativity for a moment. Creativity is that special something. It can take you from good to great, from want to need, from admiration to infatuation. It is intangible, emotional, and premium-worthy. It's honest. It's simple. It's generous. It's beautiful to watch and effortless to enjoy. Once you get in touch with your creativity, nothing else is ever the same. It is an energy deep within, one that connects us all.
The way to create value in the Age of Ideas is to identify, manifest, and share your creativity.
A little far out for you? Let me elaborate.
If you've ever fallen in love—and I hope you have—you'd know that it is quite an unexplainable emotion. There's no questioning it when it happens. When you feel love, it's unmistakably present, and when you don't, there's no doubting its absence.
When a product, a person, or an organization radiates cre- ativity, it is very similar. There's no doubt that something special is happening or someone special is present. An emotional reaction takes place that binds the energy of these experiences to your soul and leaves you wanting more, not much different from when you're in love. That's why you sometimes hear people professing strong feelings for their new electronic gizmo, a piece of art, their favorite hotel, an item of clothing, or a great performer. The creative energy that person or product generates makes a tremendous connection with the consumer—so much so that they fall in love with it.
Your creative potential is fully unleashed when you manifest the highest and purest form of your purpose, what you stand for, what you believe in, what you're best at.
Creativity, like love, is entirely emotional, meaning it doesn't have a physical presence. That's what makes it so extraordinary, and yet so difficult for so many to believe in or understand. It makes a lot of very smart people uncomfortable; they have an intense desire for creativity in their lives or businesses, but they can't just purchase it like a material thing or control it like a process in a factory.
To manifest your creativity you must believe deeply in the emotional elements and patiently invest in them. Once you find your creativity, it must be encouraged and enhanced, not controlled. The best of the best—the Apples, Nikes, Michael Jordans, Andy Warhols, Meryl Streeps of the world—have it; they protect it, believe in it, and as long as they stay true to their essence they'll continue to reap the benefits that come with creative thinking and living.
The Value of Creativity
While measuring an individual or organization's creativity is difficult, there's no doubting that the presence of creativity has tremendous value. Consider the following questions:
How much is a two-hundred-dollar Nike sneaker worth if you remove the Swoosh? Twenty dollars? Ten?
What premium would you pay for a pork bun made by David Chang? Sushi made by Nobu? Pasta made by Massimo Bottura?
Why do people pay extra to stay in an Ace Hotel instead of a Holiday Inn? Or fly JetBlue instead of American?
Why does a cotton sweatshirt with a Supreme logo resell on the secondary market for over $500, when they sell at retail for just $125? Or, at a simpler level, do Windex and Fantastic really clean better than the generic, chainstore versions? Do they clean fifty cents better? A dollar better?
The value of creativity is the difference between the branded price and the commodity price of a product, service, idea, or person.
Branded Price – Commodity Price = Value of Creativity
Let's discuss our Swoosh-less Nike sneaker for a moment. My guess is that if you removed the branding from a pair of Nike Dunk sneakers, they would be worth no more than twenty-five percent of their retail price. That means that at least seventy-five percent of the value of a Nike sneaker is tied up in the emotional elements you can't see or touch, the intangibles. But just because you can't see them or touch them doesn't mean they aren't real.
For a parallel example, let's look at Kanye West's relationship with Adidas. Kanye has little or no athletic prowess—he's a musician, a tastemaker, a hype man. Whatever you may think of Kanye, he gets people talking and has been able to use his brand to create value for his partners. And that's exactly what he did when he designed a line of sneakers for Adidas, the Yeezy Boost.
In February 2015, a limited run of his shoes sold out within ten minutes at a retail price of two hundred dollars. The shoes were then released to a wider audience a month later and once again sold out in record time. This is where things start to get interesting. According to Complex magazine, in the following quarter the Yeezy Boost accounted for $2.3 million in sales on eBay, three times the gross sales of its closest competitor, for an average price of $751 per pair. Let's generously assume it cost Adidas fifty dollars per pair to produce and market a pair of Yeezy Boost. If that's the case, Kanye West's creativity is worth $701 per pair, and that doesn't include the halo value to the overall Adidas brand.
That's the value of creativity.
Start your journey today