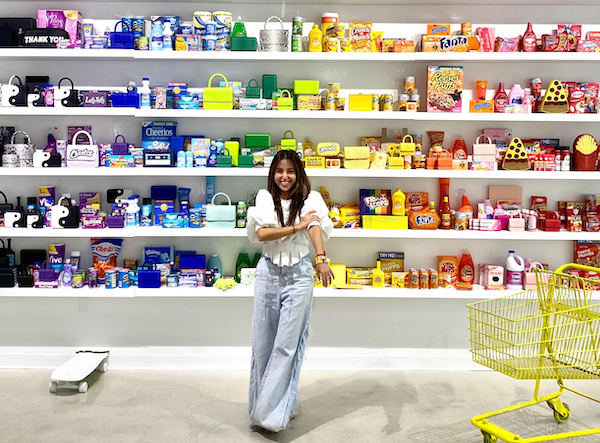 Podcast #15: Manifesting Magic with Gelareh Mizrahi
"The Designer Behind The Coolest Clutches In The World."
I knew she was different when I met her. She was petite, around five feet tall and ninety pounds, with big eyes and a captivating smile that implied, "I know something you don't, and I am not going to tell you what it is." But beyond her beauty, she was extraordinarily creative, with the kind of energy that bubbles up without intention— it's just part of who she is. When you combine that type of creative energy with sensitivity, kindness, and a love of family, you're talking about my ideal woman…which is why I asked her to be my wife. But it just so happens that Gelareh Mizrahi is also a perfect example of what everyone can manifest in the Age of Ideas.
When I met her, Gelareh had recently graduated from the Parsons School of Design and was helping her cousin Aimee with her clothing brand, Queen of e.vil. The two of them would lock themselves in Aimee's apartment for endless hours and cook up crazy design ideas that would end up on T-shirts, sweatshirts, and cashmere sweaters sold in department stores and boutiques from Dallas to Dubai. (You know that amazingly inspirational gear you pick up at SoulCycle? Aimee and Gelareh came up with the initial designs.) But before long, Gelareh, with her creative energy and desire, needed a new outlet; she wanted more.
That was when the universe (and her mother) swooped in.
One afternoon Gelareh's mother Gilda was working in her boutique in Georgetown, an upscale area in Washington D.C. A customer noticed the python-skin handbags she had for sale and commented, "You know, I could make similar handbags for you. Maybe I could do a private label for your store." Gilda said, "I don't really want a private label, but you should speak with my daughter. She's a fashion designer in New York." And so Gelareh was put in touch with this woman, who owned a factory that produced handbags.
A couple of conversations and emails later, an arrangement was in place: Gelareh would design and sell the python handbags in the U.S., while the woman would handle producing the bags overseas, and they would see how things developed from there. I was skeptical; yes, she had a partner, but no start-up capital. Why wouldn't she just get a job doing design for someone else? But Gelareh was determined, and when she is determined, get on board or get out of the way.
The first step for her new business was to get a booth at the Coterie show, a wholesale fashion tradeshow where all the major retailers buy from all the major producers. When you aren't a recognized name, they don't just hand you a booth, and most booths are committed months in advance. If a newcomer is lucky enough to score a space, it's usually way in the back. That's what happened here. Gelareh designed a low-cost but appealing booth for the Coterie show, and her father, brother, and I built it on-site, way in the back of the Jacob Javits convention center.
I wanted to help with the sales process, but Gelareh was not having it. She asked me to go back to work and show up when it was time to break the booth down. Each night she came home exhausted, collapsed in bed, and left the next morning at the break of dawn. When the Coterie show ended, I broke down the booth. As we began our drive home, Gelareh was silent. She had not shared any sales numbers, so I was worried that no sales had been made. I was afraid of the impact this might have on her confidence and our new enterprise. But before long a subtle grin began to show on her face.
I felt inspired to ask, "So did you make any sales?"
"Maybe," she replied.
"How much you take in?"
After a pause, she blurted, "We made $48,000!"
"What?!" I cried. And proceeded to scream with glee like a young girl getting her first Barbie doll.
Now, let's stop for a moment. Gelareh did not own a factory. She did not have a sales force—or any employees, for that matter. The business at this point was entirely financed by the bag producer, a lucky break, but the start-up costs were no more than $20,000. Gelareh went from an idea to an international brand in less than a year with no personal capital investment and only the strength of her creative designs.
From there things continued to evolve. As the business grew, Gelareh renamed the company Gelareh Mizrahi and used the Internet, mainly Google and Alibaba, to find a new producer who could handle much higher capacity. With full control of her brand, she decided to fully express her creative vision, and her designs became more personal. She combined her love of high fashion with her Persian heritage and her experiences roaming the streets of D.C. as a child and released a python-covered skateboard. It immediately put her on the map. It was interesting, different, and naturally sharable; people wanted to talk about it, ride it, take pictures with it. It caused so much buzz that the New York Times featured it in their Sunday Style section.
The launch of Gelareh's namesake brand happened just as Instagram started to develop into a dominant social platform. As a visual person she took to the platform immediately and studied it like a lawyer preparing for the bar—except that she loved it so much it was like studying her favorite television show. She spent hour upon hour taking her highly sharable product and creating interesting, beautiful, and engaging stories to share on her feed. She also told her story and got her audience invested in her success. She lent the bags to influencers—friends of friends of friends before there was really such thing as "influencer marketing"— and it worked.
She gave her creativity and time generously to her community, and they gave back their support. The online publication Fashionista celebrated these marketing efforts in an
article whose banner text read: "How handbag designer Gelareh Mizrahi used social media to increase sales by 80 percent. The young brand is a success story for using non-traditional marketing strategies—namely Instagram and strategic placement on streetstyle stars." Gelareh was figuring out the new paradigm, and I had a front-row seat. In the meantime I was the chief marketing officer of a hotel company known for innovation and creativity. Yet when I pitched non-traditional marketing methods to the management team, the response was puzzlement and disinterest. Influencers? What are they? Social media? Isn't that for kids? Content? What are we, a movie company? They were happy to spend hundreds of thousands of dollars on traditional marketing, succeeding only in losing market share and degrading our brand value, while at the same time Gelareh, with virtually no money, was building a brand from the ground up.
As Gelareh's business continued to grow, one holiday season we sat together and wrote out our goals. Gelareh decided she wanted a mentor—someone to help take her business to the next level—and she wanted her bags to be sold in one of the biggest and best stores in New York, a marquee account. She wrote out the name of the store, hoped, and prayed. A few months later, through Instagram and the recommendation of a friend, she met Stacy Caldwell. Stacy had just come off a stint at a major fashion house and was looking to invest her time in helping some small brands grow. Stacy agreed to work with Gelareh under an arrangement that her small business and our small family could afford. A couple of months later Stacy was able to land a meeting with Barneys New York, the holy grail for a young designer. A seal of approval from Barneys would mean the brand had officially arrived—and, yes, Barneys was the name of thestore Gelareh had written down.
At the time Gelareh was pregnant with our second child, Teddy. I remember we were driving in Soho when Gelareh got the email. Barneys had placed an order! All their stores in the United States and in Japan would eventually carry Gelareh Mizrahi handbags. We cried. We screamed. We played loud music. It was surreal.
She had done it.
Gelareh's journey is an eye-opening case study as to what is possible for anyone in the Age of Ideas. Yes, she is talented, but the route she took to share this talent is open to you and me. She has a skill, a superpower, and she has been able to amplify it and manifest her power by using tools available to us all. She built her website on Wix and then Shopify. She uses Instagram to market her business. She found her producer on Alibaba. She found her advisor on social media and through friends. Though things are going well—Gelareh recently opened a shop in Miami's Design District, and Vogue featured one of her bags as an "it" handbag in 2017—we are not moguls. Gelareh is just a hardworking person who wanted to create and share her art. Thanks to the time in which she was born, she had that opportunity and seized the moment.
There is nothing stopping any one of you from using the same model, tools, and platforms to build an enterprise based on your creative ideas and generating significant value and fulfillment in return. Now that we've talked about the Creator's Formula and the process around finding your purpose and aligning all the elements in your life around it, we'll get into some of the more practical information that will help you manifest that purpose in amazing ways.
Manifesting Magic in The Age of Ideas
The real magic is in making the intangible idea, the creative impulse, manifest and live in our reality.
-Mark Ryan, actor
In the past, the journey of manifesting could have taken decades or even a lifetime, but in the Age of Ideas the timeline to go from idea to product has been reduced to months, weeks, or sometimes even days. Three principle elements of the manifesting process have radically altered the landscape of what is possible:
1. How you access resources and information
2. How you manifest your ideas
3. How you share your ideas via marketing and advertising
As is obvious, how we access information and resources has been completely turned on its head. Before the web, research was time-consuming and often expensive. Just as often it was limited in scope and had a local quality, and most transactions involved middlemen. If you needed to hire a graphic designer, for instance, you had to go to a reputable agency that offered those services. Not only did that agency charge you a premium for access to their talent, but they were the gatekeepers, so they figured out ways to charge you for a lot of other things, from account reps to expensive lunches to their office rent. That made the accepted cost of business significantly higher. But in the Age of Ideas, everyone has equal access and a direct line to the talent or service you may require, which is much cheaper. And on the flip side, of course, if your business is a service business, you can present yourself to customers by using a web-building platform like Squarespace, Wix, or WordPress to set up a storefront within a few days, without even knowing how to program.
Manifesting your ideas is also much easier. In the industrial age, you needed to own the means of production or be able to place very large and expensive orders to be able to manufacture a product; today, the means of production are much more accessible and affordable. The cost of manufacturing has dropped dramatically since the days of Henry Ford—at first due to the industrial growth of countries like China and India, and more recently because, again, the middlemen can be cut out. Even after places like China became options, you still had to fly there, strike a deal, and have significant start-up capital, but today you can just go on a platform like Alibaba or Etsy and find hundreds of factories, designers, and craftspeople willing to bid for your business and manufacture your dream. If you wanted to be in the T-shirt, shoe, or pool floatie business, you could more than likely be ready to start selling on your website in less than a month.
And finally, sharing—a/k/a marketing, advertising, and communicating— has evolved in the same way. Whether you're using Instagram, email newsletters, Google Adwords, or YouTube, the communication platforms are for the most part free to use, with the majority offering both organic (i.e. free) and paid options. Your energy can go to creating an offering that is naturally sharable and generates interesting content that can be used to cultivate your audience. Set your sights on telling a good story through photos, videos, articles, advertisements, and other creative forms of communication to incite an action from your audience.
This kind of content is necessary given the sprawl and behavior of the Internet. It's like a massive mousetrap. Users wander about consuming information, and millions of entities vie for attention through different forms of marketing. Sure, users can turn off things they don't want to see, but marketers have many more tools to refine their messages and create subtle presence. Their goal is to lead consumers down a "purchase funnel" from awareness (you know they exist), to intention (you plan to take an action), to sale (you buy something or take their desired engagement action). All of which makes the Internet just a game intent on selling users anything they could ever want or need. So the best way to stand out in this colossal marketplace is to make impactful creative content and combine it with a disciplined commitment to data analytics, magic, and math. Tell an engaging story, see how people react to it in real time, and adjust the story to achieve your desired outcome. Will it be easy? No. Will it take time? Yes, probably more than you think. You will have to persevere through ups and downs, surmount unexpected obstacles, and overcome many mistakes. But if you choose the right challenge, focus your energy on your superpowers, execute at a high level, and choose the right partners and platforms, you can achieve a level of fulfillment far beyond your expectations.
Start your journey today