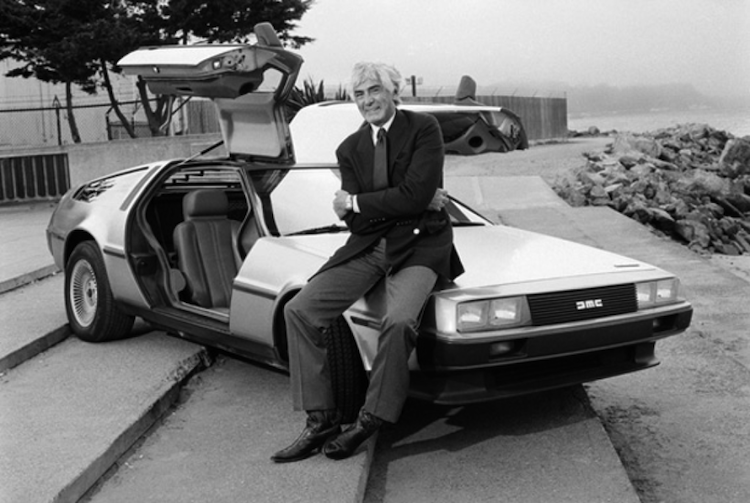 John Delorean
""In his casket he wore a black motorcycle jacket, blue jeans and a denim shirt. A pair of shades was tucked into the zipper.""
For anyone under 30, the name "DeLorean" conjures images of the time machine from Back to the Future. But let's look at the man behind those gull-wing doors.
1. He Made Some Terrific Muscle Cars
Although DeLorean is best remembered for the later car that bore his name, in the early 1960s he was one of Detroit's biggest stars. As chief engineer at Pontiac, he helped transform the division from a maker of practical, conservative cars into one of Detroit's leading producers of muscle.
DeLorean received credit for a slew of practical innovations like concealed windshield wipers and vertically stacked headlights, but his major coup was dropping a giant 6.4-liter V8 engine into a Pontiac Tempest. The souped-up new model became known as the Pontiac GTO, one of Detroit's most legendary muscle cars. Pontiac also introduced the Firebird under DeLorean's watch before he eventually left the division to take the reins at Chevrolet.
2. The DeLorean DMC-12 Wasn't So Great
Marty McFly's ride may have been pretty sweet, but the DeLorean DMC-12 wasn't much of a car unless you sprung for the flux capacitor option. Production of the stainless steel car began in Northern Ireland in 1981, and drivers began complaining almost immediately.
The DMC-12 looked fast, but anyone who got behind the wheel quickly learned that the car was dreadfully slow. For starters, the car's small engine only produced 130 horsepower, and the stainless steel paneling that gave it such a distinct appearance was heavy. Thanks to its high weight and puny engine, the exotic car could only groan from 0 to 60 in a sluggish 10.5 seconds.
The DeLorean DMC-12 didn't just earn poor grades for performance, either. The dye from the floor mats would rub off onto drivers' shoes. The iconic gull-wing doors had a habit of becoming hopelessly stuck. The unpainted stainless steel body looked really cool, but it was nearly impossible to keep clean. In other words, the car wasn't fun to drive, wasn't pleasant to ride in, and was almost always dirty. What a combo!
When the market for slow, expensive, breakdown-prone cars never materialized, DeLorean ceased production after just three model years. Only around 8,900 DeLorean DMC-12s ever rolled off the assembly line.
3. He Had Some Big Time Investors, Though
Although the car DeLorean eventually produced was a notorious flop, he parlayed his muscle-car experience as the man behind the GTO and other automotive legends into investments from some big names. Early investors in the DeLorean Motor Company included Johnny Carson, who chipped in $500,000, and Sammy Davis, Jr., who went in the bag for $150,000. The British government invested $140 million in the company in the hopes that a job-creating production facility in Belfast would tamp down sectarian violence and stimulate the local economy.
All of these investors probably rued their decision to break out their checkbooks for DeLorean, but Carson probably had the biggest regrets. His experience with the DeLorean DMC-12 started on a bad note; the first time he took one for a test drive around the block it broke down. Worse still, Carson was behind the wheel of his 1981 DMC-12 when he was arrested for driving under the influence in 1982. Carson eventually unloaded his DeLorean at auction in 1985 for $18,250.
4. He Had Bigger Problems than His Failing Business
The rapidly sinking DeLorean Motor Company wasn't even DeLorean's biggest headache in the early 80s. His major concern was an October 1982 arrest in which he had been videotaped buying cocaine in Los Angeles. Drug agents alleged DeLorean was conspiring to smuggle $24 million worth of cocaine into the country, and he was even seen on the tape referring to the blow as "better than gold."
Despite this apparently damning evidence, DeLorean and his lawyers argued that the car mogul had been entrapped by the Justice Department. The defense's case rested on the assertion that yes, DeLorean had made a bad decision in his efforts to save his foundering company by smuggling drugs, but he only agreed to the scheme after government agents went out of their way to entice him into the crime. After 29 hours of deliberation, the jury agreed and acquitted DeLorean in August 1984.
5. He Cultivated His Image
DeLorean made sure his cars looked cool, but even more importantly, he made sure John DeLorean looked cool. When DeLorean first rose to prominence in the 60s he became known as a swaggering bad boy with dyed-black hair, big sideburns, and unbuttoned shirts. As the head of Pontiac, DeLorean became a show-business fixture in Hollywood who dated starlets like Ursula Andress.
Some of DeLorean's image obsession paid off, but it tended to veer into the realm of hilarious narcissism. His 2005 Washington Post obituary noted that one of his ex-girlfriends claimed her Christmas gift from the carmaker was "a leather-bound portfolio featuring photographs of himself."
DeLorean literally took his rock-star image to his grave. The final sentence of his New York Times obituary read, "In his casket he wore a black motorcycle jacket, blue jeans and a denim shirt. A pair of shades was tucked into the zipper."
Quotes:
"It's inevitable that the company come back"
LINK TO THE ORIGINAL ARTICLE ON MENTAL FLOSS
Start your journey today