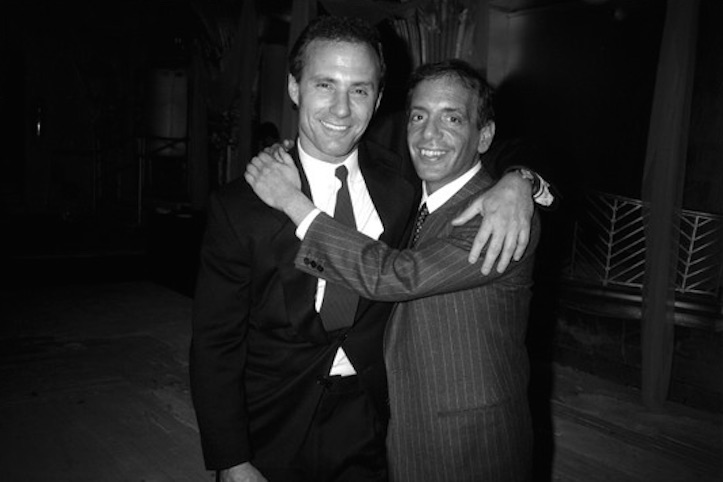 How Ian Schrager Unlocked His Creative Potential.
"Making the spirit soar and making somebody sort of lift off the ground and fly is about creating magic. People ask me about magic and what it is, it's very difficult for me to say. If I knew I would write a book and sell the book. And that magic, that very elusive kind of thing, is what I try to create at these hotels."
As we pulled up to the porte cochère, I remember being thrilled. The entrance to the Delano had a magnitude and energy I'd rarely, if ever, experienced before. The valets were all perfectly dressed in crisp white outfits, the people getting out of their cars were beautifully put together, and the architecture was the perfect combination of classic Art Deco and clean modern lines.
While the arrival alone was magnificent, it wasn't until I entered the lobby that I was swept away: fifty-foot ceilings, a straight-shot visual hundreds of feet from the entrance to the rear orchard, and charming vignettes of whimsical seating and social areas throughout. The beauty was unmistakable, and the energy was so real you could almost drink it. Every step I took built on the drama of the experience. By the time I exited the lobby and stepped into the orchard, I felt changed, as if my appreciation for what the imagination could manifest had been heightened. I didn't say a word for ten minutes after I walked outside. I just smiled, completely satisfied by what I had just consumed.
While the experience was powerful, as in many meaningful moments, I wasn't fully aware of how this night would affect me. I definitely wasn't aware I would end up spend many years involved in different ways with this company, crafting new ideas, creating even more magical experiences. What I did know, without a doubt, was that I had tasted fully realized creative potential. And once I knew it existed, how could I live without realizing my own? So I began my research at the source: Ian Schrager, the iconoclastic creator of Delano.
Schrager was born in Brooklyn to a working-class family. He had a close relationship with his parents, especially with his father, Louis, who instilled in him a strong value system. After spending his youth in East Flatbush, he headed off to Syracuse University in 1964. That's where he met Steve Rubell, another Brooklyn product, who would become his lifelong friend and business partner. An outgoing, flamboyant character, Steve was a couple of years older than Ian, but the two meshed perfectly. As Ian tells it, "We were dating the same girl, and from the way we went about competing for her, we came to respect and like each other. And the friendship just got closer and closer and closer. I would say that from the end of 1964 until Steve died in 1989 I spoke to him every single day."
After they graduated, Ian went on to practice real estate law, and Steve started a chain of steakhouses and became Ian's first client. It was about this time that Ian and Steve started going to clubs together, and they were astonished and inspired by what they saw. For the first time they were exposed to the mixing of different groups of people, the breaking down of social barriers—and the willingness of people to stand in line for the chance to spend their money. This was when Ian began to sense his desire to create. After a couple of months of going out and throwing a few parties of their own, Ian and Steve decided to open their own disco—in Queens, a borough of New York City known more for slicked-back hair and slice shops than for chic parties and celebrities.
After their first club, Enchanted Garden, was a financial success, Ian and Steve soon wanted to take the next big step: a club in Manhattan. By early 1977, they'd signed the lease for a former CBS studio and opera house on West Fifty-Fourth Street. It took them six weeks and $400,000 to transform the old theater into a nightclub. They kept much of the original infrastructure and used it to rig lighting that would constantly change the feel and create the energy needed to make the club a transformative experience.
As Schrager once put it, "With a nightclub, you have no real discernable product. You have the same music and the same alcohol as everybody else, and yet you have to create magic night after night in hopes of distinguishing yourself." On April 26, 1977, Studio 54 opened, and the world of nightlife would never be the same.
For the thirty-three months that followed, Studio 54 was the center of the universe. Ian, Steve, and their team would combine their unlimited imagination with hard work and execution to create that magic night after night. There were countless legendary moments: Bianca Jagger riding into the club on a white horse for her birthday celebration; a nineteen-year-old Michael Jackson on the dance floor with Andy Warhol, Liza Minelli, Steven Tyler, Brooke Shields, and the Village People; elaborate theme parties celebrating everyone from Karl Lagerfeld to Elizabeth Taylor. The regulars at 54 included Halston, Mick Jagger, Jerry Hall, Debbie Harry, Grace Jones, Calvin Klein, Elton John, Tina Turner, Divine, Margaret Trudeau, Francesco Scavullo, Truman Capote, Margaux Hemingway, Freddie Mercury, Tommy Hilfiger, Mikhail Baryshnikov, Diana Ross, Al Pacino, Cher, Bruce Jenner, David Bowie, Iman, Salvador Dali, Diana Vreeland, John Travolta, Beverly Johnson, Lauren Hutton, Andre Leon Talley, Diane von Furstenberg, and Jacqueline Kennedy Onassis. Studio 54 was surreal. It became more than a place—it was a moment etched in time, capturing the energy of the sexual revolution in unbridled freedom and hedonism. Studio 54 was the apogee of escapism.
Ian and Steve weren't ready for the sudden explosion of energy and material success and let it inflate their egos. In December 1978, Steve was quoted in a newspaper saying that Studio 54 had made $7 million in its first year of operation and "only the Mafia made more money." Shortly thereafter, the nightclub was raided, and Steve and Ian were arrested for skimming $2.5 million without paying taxes. Charged with tax evasion, obstruction of justice, and conspiracy, they were sentenced to three and a half years in prison. In a blink of an eye, they had gone from the top of the world to the lowest place they could ever imagine.
After prison, Steve and Ian were motivated to regain what they'd lost. They opened another nightclub, Palladium, in Manhattan's historic Academy of Music building. Ian enlisted world-renowned Japanese architect Arata Isozaki to reimagine the space, and they made art the focal point of the experience, with installations by Jean-Michel Basquiat, Julian Schnabel, Kenny Scharf, Keith Haring, and Francesco Clemente. It was another legendary success. While Steve was passionate about recapturing the days of 54, Ian saw another club as repeating themselves. "If you repeat yourself," he stated, "there isn't any point. I'm always looking for something else—trying to pull a rabbit out of a hat." To him, Palladium was a stopover on the way to the duo's next big challenge: hotels.
With their nightclubs, Ian and Steve had to create something out of nothing. While people love nightclubs, there's no practical need a club fulfills. Going to one is an act of desire, a want, for escape or social validation—it's all emotional. On the other hand, people need hotels; they need a place to stay, so there's a practical value. Now, instead pulling a rabbit out of the nightclub hat every night, Ian and Steve had to figure out how to reinvent the hotel experience by adding emotional elements. "Hotels," Ian once said, "are in certain important ways, nightclubs for grown-ups…. So when Steve and I went into the hotel business, where we had a real commodity that people wanted, we didn't rely on that. Our approach wasn't, well, we have a bed. Our approach was, we want to make it something magical."
And they did. Ian and Steve knew there were no hotels catering to the taste and lifestyle of their clientele. It was obvious to them that the hotel business was stale with sameness; if they could infuse art and lifestyle into this segment of commerce, they would disrupt the industry.
Their first hotel, Morgans, opened in 1984, and it was a revelation. They'd hired a designer, Andrée Putman, who had never done a hotel before, and gave her the freedom to design the experience without any rules. Every detail was considered, from art in the rooms (one-of-a-kind photographs by Robert Mapplethorpe), to the most chic bars and restaurants and avant-garde public spaces. Steve described their new hotel by saying that if a Holiday Inn or a Marriott were like Macy's or Bloomingdale's, their new hotel was like a Madison Avenue boutique. And just like that, the boutique hotel was born.
Following the success of Morgans, Ian went on to open the Royalton and Paramount hotels, introducing the concept of "lobby socializing," which made the lobby a dynamic social center, and "cheap chic"—the idea of affordable luxury in a stylish environment. Next, Schrager invented the "urban resort" with Delano Miami—ironically, the hotel his parents had brought him to on their first family vacation many years before. With each hotel, he changed the perspectives of guests and the hospitality industry on what was possible.
Since then, Ian has continued his groundbreaking, space-defining work with Mondrian Los Angeles, Hudson New York, Clift San Francisco, and St. Martins Lane and Sanderson in London. More recently, he launched his Edition hotel brand in partnership with Marriott, his own cheap-chic brand Public hotels, and a slew of residential real estate projects in downtown Manhattan. He has collaborated with some of the most creative designers, artists, and restaurateurs in the world, including Philippe Starck, Julian Schnabel, Herzog de Mueron, John Pawson, Yabu Pushelberg, Jean-Georges Vongerichten, and many more. Travel & Leisure magazine summed it up perfectly by saying, "Ian Schrager has done more to bring design to the travel experience than any other living person—single-handedly reinventing the hotel as a site of electrifying cultural significance."
While many say Schrager's work is about design, it isn't—it's about ideas and experiences. Ian uses the power of his ideas to tap into what he calls the "collective unconsciousness, the ethereal, elusive, and hard-to-define magic and energy." He understands the power of this intangible, emotional place and uses it to connect deeply with his customers. He knows that "the way a product makes you feel is more important than how it looks. The goal is to create experiences that people will remember, to touch them in emotional and visceral ways, to lift their spirits, to assault their senses, and to wow them in tasteful ways." But just as important, Schrager understands that an amazing experience can't be created from ideas alone, knowing that "good execution is just as important as a good idea." And he has consistently manifested his creative potential because he has regularly married the four key elements for creating value in our new age: purpose, creativity, execution, and emotion.
Ian Schrager creates because he has to, not because he wants to. He isn't competing against anyone except himself. As he says: "It is never about the money—but instead to get people even more excited than they were the last time." And with a little help from his friend, that's how he unlocked his creative potential.
Start your journey today