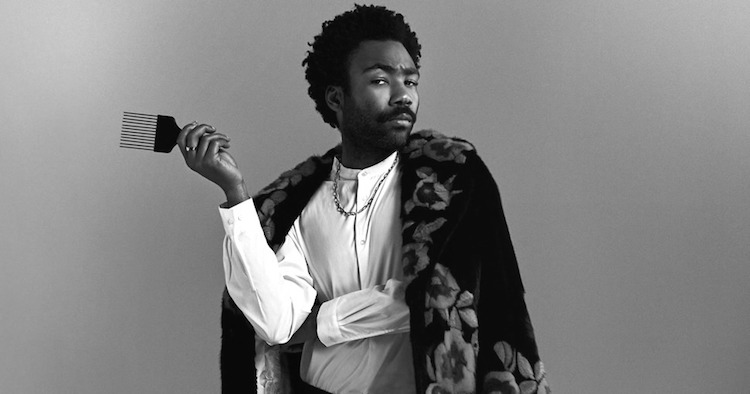 Donald Glover, Childish Gambino
"When anybody pays you to be creative, you're very lucky."
Donald Glover kicked off his Saturday Night Live monologue this past weekend with a joke, a restated grudge, and a multistage introduction that all evoked peak—and also valley—Kanye West. The joke: "I used to live in New York, and it's so great to be back here, especially now that I'm rich." The grudge: "It truly is an honor to be hosting SNL, instead of just auditioning for it, which I did, twice. That's not a joke, I'm just still pissed." The introduction: "But it all kind of worked out for me. I was in a show called Community." [Mild applause.] "And I play Lando Calrissian in the new Star Wars movie Solo." [Big applause.] "And if you're black, I made Atlanta and 'Redbone.'" [Huge applause.] He contains multitudes, and those multitudes are at war with each other, both within him and around him.
Another example of how fragmented Glover's audience has become is while much of TV-glued America was watching his very excellent SNL episode—the Migos-in-therapy short was golden for "Breakthrough! Breakthrough! Stunt on these hoes with my breakthrough!" alone—much of internet-glued America was watching this:
"This Is America" is one of the two new songs we've gotten from Glover's long-running musical alias, Childish Gambino, since 2016's Awaken, My Love! That record, which begat the tremendous "Redbone," was a hard pivot toward brainy P-Funk that earned him both serious Grammy love and more critical goodwill than the full decade of hashtag-rap tomfoolery that preceded it. But the "This Is America" video, directed by key Atlanta collaborator Hiro Murai, is a hard pivot of its own, a dreamy and profoundly disturbing rumination on police brutality and gun violence and the way such serious issues clash artistically with traditional nonthreatening notions of black superstardom. What's disturbing is it's designed not to feel ruminative at all.
And so, bounding shirtless through a mostly empty warehouse, Glover alternates between bursts of goofball dancing and startling explosions of violence, shooting a guitarist point-blank in the back of the head, then machine-gunning an entire choir that's chanting, "Get your money, black man!" Extras and onlookers loom at the edges of the frame, either running away from some impending riot or running toward it. The beat is dark and droning, shot through with brief rays of fingerpicked acoustic-guitar sunshine; the lyrics veer from winking trap boilerplate ("Hunnid bands, hunnid bands, hunnid bands / Contraband, contraband, contraband") to something far queasier. "You just a black man in this world," sings Young Thug during the extended outro, accompanied by a long shot of a terrified Glover fleeing a mob. "You just a bar code, ayy." It's Migos-as-comedy morphing into Migos-as-tragedy; it's the first music video in ages to warrant, and reward, repeat views.
As for the second new Childish Gambino song, Glover debuted it on SNL: "Saturday," an infectious bit of roller-skating R&B with a breezy guitar riff from longtime collaborator Ludwig Göransson, a showcase of Glover's likably shaky falsetto, a congas-and-whistles dance breakdown, and the soothing goodwill of De La Soul at their sunniest.
Whereas "This Is America" is De La Soul at their angriest: It's the gulf between De La's own exuberant "A Roller Skating Jam Named 'Saturdays'" and the grim noir of "Millie Pulled a Pistol on Santa."
Childish Gambino is mutating again. In the 30 Rock and Community era, as Glover's onscreen star rose, his rap alias was mostly an outlet for petty grievances and groaner punch lines, a spotty era best encapsulated by "L-A-N-D-O," the stupendous (and mostly loving) parody song created by screenwriter, comedian, and Twitter star Demi Adejuyigbe that far outshines any actual trailer for Solo.
Gambino's 2013 album, Because the Internet, was the first major mutation, a multimedia art-rap puzzle box more notable for what it reached for than what it actually grasped. Awaken, My Love!, a pitch-perfect genre exercise, was the second. What "This Is America" suggests is that the next—and apparently last—Childish Gambino record will be far more pointed and political and uncomfortable.
This person means drastically different things to drastically different people, which is something he's known for a long time. (Even now, flush with success, a project like his ill-fated animated Deadpool series for FX can meet a pointedly contentious end.) Recall that in 2013, Glover explained his early departure from Community partly via a series of handwritten notes on Residence Inn stationery that offered a vivid tableau of anger and self-loathing and doubt. "I'm afraid people hate who I really am. I'm afraid I hate who I really am. I'm scared people will find out what I masturbate to." Also: "I'm afraid people think I hate my race." As The New Yorker's combative March profile of Glover showed, he is hyper-aware of the racial breakdown of who likes him for what, and why. "This Is America" looks that conundrum dead in the face, in a way that feels like a gun to the back of the head.
An underrated aspect of the ongoing war for Kanye West's political soul is the vacuum it creates. For those who miss, yes, the old Kanye—champion of the oft-caricatured and demonized city of Chicago, antagonizer of Republican presidents, triumphant hijacker of racist iconography—there is a lane open now for another artist who can at least approximate his cultural prominence and accumulated goodwill. Lack of ambition has never been Glover's problem; wobbliness of execution only used to be. He is fully capable now of thrilling the masses, and more importantly, thrilling them in a way that plainly implicates the majority of those masses. Glover's SNL episode also featured a delightful (and mostly loving) spoof of the public outrage inspired by Kanye's recent tweetstorms. But the rest of Glover's output this past weekend makes clear that merely watching the throne is no longer an option.
CLICK HERE TO VISIT THERINGER.COM FOR ORIGINAL ARTICLE
"I'm very confident in my point of view. 'Cause I think that that's all you can really have. I'm never really going to know what anybody else is going through, so it's just kind of your job to be expressive with your point of view."
"When anybody pays you to be creative, you're very lucky."
"Careers very rarely are a waste of time; jobs usually are."
"I'm very impatient, so I was like, 'I want to be able to do whatever I want now.' But even the biggest stars – you look back and they weren't overnight."
"I personally don't believe people really grow. They just learn stuff when they were a kid, and hold on to it, and that affects every relationship they have."
Start your journey today