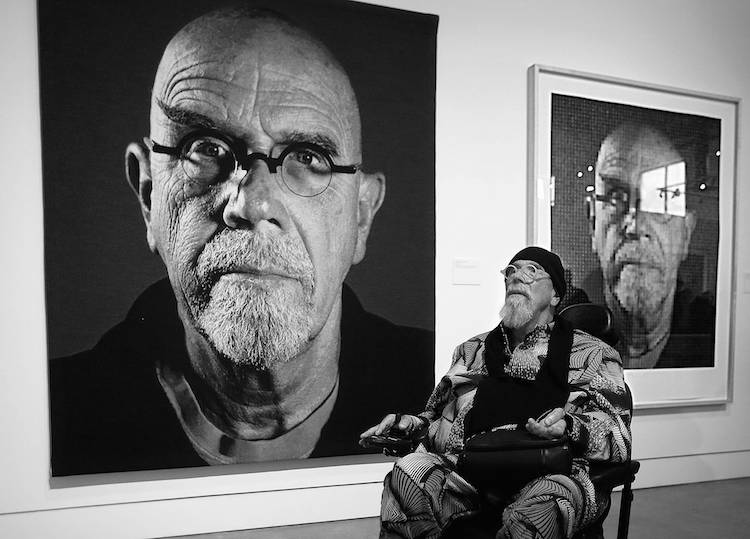 Chuck Close
"The advice I like to give young artists, or really anybody who'll listen to me, is not to wait around for inspiration. Inspiration is for amateurs; the rest of us just show up and get to work. If you wait around for the clouds to part and a bolt of lightning to strike you in the brain, you are not going to make an awful lot of work. All the best ideas come out of the process; they come out of the work itself. Things occur to you. If you're sitting around trying to dream up a great art idea, you can sit there a long time before anything happens. But if you just get to work, something will occur to you and something else will occur to you and something else that you reject will push you in another direction. Inspiration is absolutely unnecessary and somehow deceptive. You feel like you need this great idea before you can get down to work, and I find that's almost never the case."
Charles Thomas "Chuck" Close is an American painter, artist and photographer who achieved fame as a photorealist, through his massive-scale portraits. Close often paints abstract portraits of himself and others, which hang in collections internationally. Close also creates photo portraits using a very large format camera. Although a catastrophic spinal artery collapse in 1988 left him severely paralyzed, he has continued to paint and produce work that remains sought after by museums and collectors.
He was born in Monroe, Washington. His father, Leslie Durward Close, died when Chuck was eleven years old. His mother's name was Mildred Wagner Close. Close suffered, as a child, from a neuromuscular condition that made it difficult to lift his feet and a bout with nephritis that kept him out of school for most of sixth grade. Even when in school, he did poorly due to his dyslexia, which wasn't diagnosed at the time.
Most of his early works are very large portraits based on photographs, using Photorealism or Hyperrealism, of family and friends, often other artists. He suffers from prosopagnosia (face blindness), and has suggested that this condition is what first inspired him to do portraits.
In an interview with Phong Bui in The Brooklyn Rail, Close describes an early encounter with a Jackson Pollock painting at the Seattle Art Museum: "I went to the Seattle Art Museum with my mother for the first time when I was 14. I saw this Jackson Pollock drip painting with aluminum paint, tar, gravel and all that stuff. I was absolutely outraged, disturbed. It was so far removed from what I thought art was. However, within 2 or 3 days, I was dripping paint all over my old paintings. In a way I've been chasing that experience ever since."
In 1962, Close received his B.A. from the University of Washington in Seattle. In 1961, he won a coveted scholarship to the Yale Summer School of Music and Art, and the following year entered the graduate degree program at Yale University, where he received his MFA in 1964. Among Close's classmates at Yale were Brice Marden, Vija Celmins, Janet Fish, Richard Serra, Nancy Graves, Jennifer Bartlett, Robert Mangold, and Sylvia Plimack Mangold.
After Yale, he studied at the Academy of Fine Arts Vienna on a Fulbright grant. When he returned to the US, he worked as an art teacher at the University of Massachusetts. Close came to New York City in 1967 and established himself in SoHo.
On December 7, 1988, Close felt a strange pain in his chest. That day he was at a ceremony honoring local artists in New York City and was waiting to be called to the podium to present an award. Close delivered his speech and then made his way across the street to Beth Israel Medical Center where he suffered a seizure which left him paralyzed from the neck down. The cause was diagnosed as a spinal artery collapse. He had also suffered from neuromuscular problems as a child. Close called that day "The Event". For months, Close was in rehab strengthening his muscles with physical therapy; he soon had slight movement in his arms and could walk, yet only for a few steps. He has relied on a wheelchair ever since. Close spoke candidly about the effect disability had on his life and work in the book Chronicles of Courage: Very Special Artists written by Jean Kennedy Smith and George Plimpton and published by Random House.
However, Close continued to paint with a brush strapped onto his wrist, creating large portraits in low-resolution grid squares created by an assistant. Viewed from afar, these squares appear as a single, unified image which attempt photo-reality, albeit in pixelated form. Although the paralysis restricted his ability to paint as meticulously as before, Close had, in a sense, placed artificial restrictions upon his hyperrealist approach well before the injury. That is, he adopted materials and techniques that did not lend themselves well to achieving a photorealistic effect. Small bits of irregular paper or inked fingerprints were used as media to achieve astoundingly realistic and interesting results. Close proved able to create his desired effects even with the most difficult of materials to control. Close has made a practice, over recent years, of representing artists who are similarly invested in portraiture, like Cecily Brown, Kiki Smith, Cindy Sherman, and Zhang Huan.
The recipient of the National Medal of Arts from President Bill Clinton in 2000, the New York State Governor's Art Award, and the Skowhegan Arts Medal, among many others, Close has received over 20 honorary degrees including one from Yale University, his alma mater. In 1990, he was elected into the National Academy of Design as an Associate Academician, and became a full Academician in 1992. New York Mayor Michael R. Bloomberg appointed the artist to the Cultural Affairs Advisory Commission, a body mandated by the City Charter to advise the mayor and the cultural affairs commissioner. Close painted President Clinton in 2006 and photographed President Barack Obama in 2012. In 2010 he was appointed by Obama to the President's Committee on the Arts and Humanities. He resigned from the President's Committee in August 2017, co-signing a letter of resignation that said in reference to President Donald Trump, "Ignoring your hateful rhetoric would have made us complicit in your words and actions."
In 2005, composer Philip Glass wrote a musical portrait of Close. The composition, a 15-minute piece for solo piano, was the idea of Bruce Levingston, a concert pianist, who commissioned it through the Premiere Commission and who performed the piece at a recital at Alice Tully Hall that year.
"The advice I like to give young artists, or really anybody who'll listen to me, is not to wait around for inspiration. Inspiration is for amateurs; the rest of us just show up and get to work. If you wait around for the clouds to part and a bolt of lightning to strike you in the brain, you are not going to make an awful lot of work. All the best ideas come out of the process; they come out of the work itself. Things occur to you. If you're sitting around trying to dream up a great art idea, you can sit there a long time before anything happens. But if you just get to work, something will occur to you and something else will occur to you and something else that you reject will push you in another direction. Inspiration is absolutely unnecessary and somehow deceptive. You feel like you need this great idea before you can get down to work, and I find that's almost never the case."
"In life you can be dealt a winning hand of cards and you can find a way to lose, and you can be dealt a losing hand and find a way to win. True in art and true in life: you pretty much make your own destiny. If you are by nature an optimistic person, which I am, that puts you in a better position to be lucky in life."
"Get yourself in trouble. If you get yourself in trouble, you don't have the answers. And if you don't have the answers, your solution will more likely be personal because no one else's solutions will seem appropriate. You'll have to come up with your own."
"Painting is the most magical of mediums. The transcendence is truly amazing to me every time I go to a museum and I see how somebody figured another way to rub colored dirt on a flat surface and make space where there is no space or make you think of a life experience."
"Never let anyone define what you are capable of by using parameters that don't apply to you."
"You don't have to reinvent the wheel every day. Today you will do what you did yesterday, and tomorrow you will do what you did today. Eventually you will get somewhere."
"You know, the way art history is taught, often there's nothing that tells you why the painting is great. The description of a lousy painting and the description of a great painting will very much sound the same."
Start your journey today