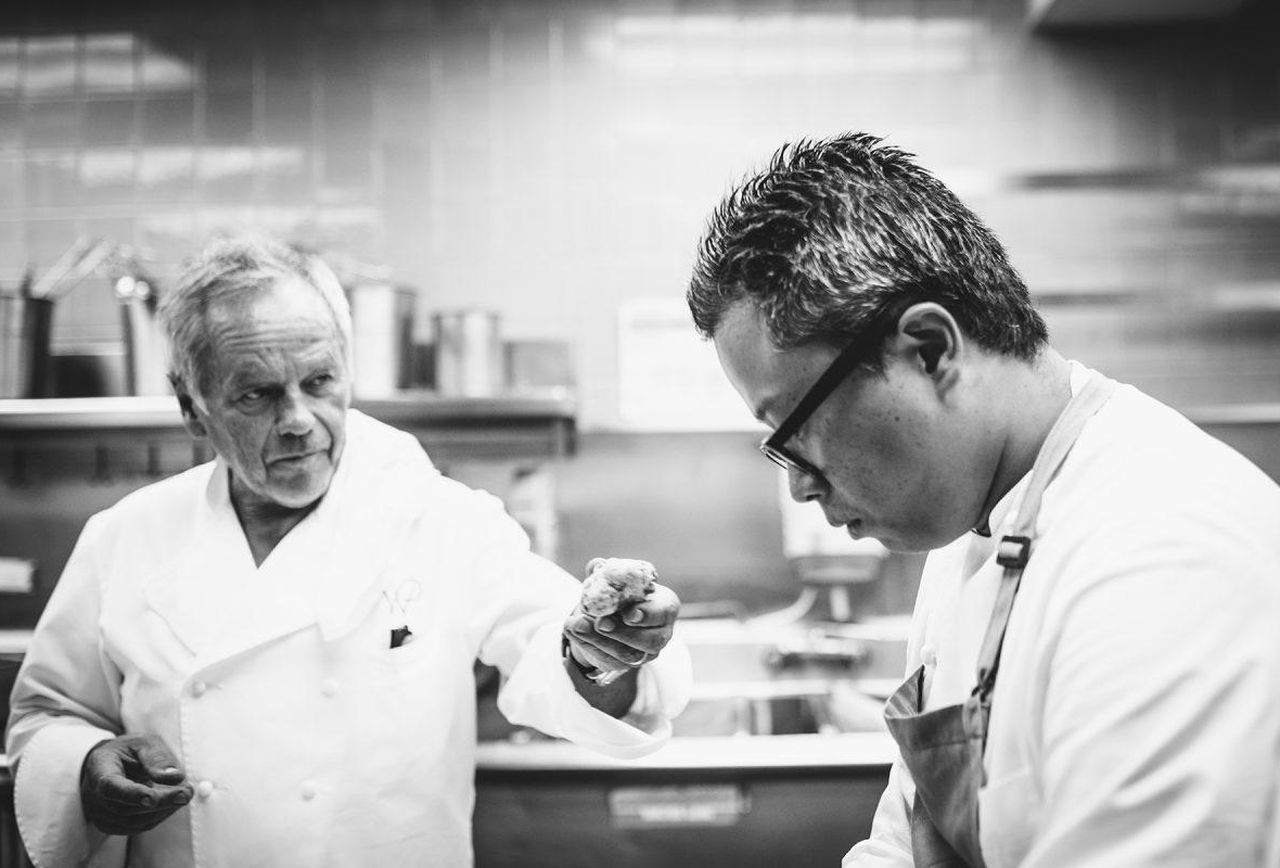 Wolfgang Puck
"Cooking is like painting or writing a song. Just as there are only so many notes or colors, there are only so many flavors - it's how you combine them that sets you apart."
Wolfgang Puck was born in Sankt Veit an der Glan, Carinthia, Austria. He learned cooking from his mother, who sometimes worked as a pastry chef. He trained as an apprentice under Raymond Thuilier at L'Oustau de Baumanière in Les Baux-de-Provence, at Hôtel de Paris in Monaco, and at Maxim's Paris before moving to the United States in 1973 at age 24. After two years at La Tour in Indianapolis, Puck moved to Los Angeles to become chef and part owner at Ma Maison restaurant.
Following the 1981 publication of his first cookbook, Modern French Cooking for the American Kitchen based on his Ma Maison recipes, Puck and Barbara Lazaroff opened the restaurant Spago on the Sunset Strip in 1982. Fifteen years later, in 1997, Puck and Lazaroff moved the award-winning Spago to Beverly Hills. It has been recognized as one of the Top 40 Restaurants in the U.S. since 2004. His success enabled him to launch the Wolfgang Puck Companies which includes the Wolfgang Puck Fine Dining Group, Wolfgang Puck Worldwide, Inc. and Wolfgang Puck Catering. The Wolfgang Puck Companies encompasses over 20 fine dining restaurants, Top 40 Restaurants in the U.S., premium catering services, more than 80 Wolfgang Puck Express operations, and kitchen and food merchandise, including cookbooks, canned foods, and coffee products. He is the official caterer for the Academy Awards Governors Ball.
Wolfgang Puck's signature dish at his original restaurant, Spago, is House Smoked Salmon Pizza.
"Cooking is like painting or writing a song. Just as there are only so many notes or colors, there are only so many flavors – it's how you combine them that sets you apart."
"I tell everybody the same thing: You have to make every dish so when you taste it, you should remember it when you go home."
"It's so funny and interesting how the physical elements of restaurants have changed and just the ways that they have changed. When I started out, the maitre'd or the restaurant manager was the star of the enterprise: no-one knew who the chef was, he was just  some guy downstairs or in the back, who never went out to talk to the customer and was never really known or had their name on the menu." 
"If you feed a celebrity or not, there can be people who saved up for six months to come for dinner. It was always important to treat everybody with respect and everyone pays, so the money doesn't change anything…the money is the same. So to me, it was always important when I went into the dining room to the kitchen and if I saw Madonna or Tom Cruise, I would never just run to their table and spend time with them because then people would say that they went to the restaurant and Wolfgang only talks to celebrities. So now, what I do is exactly the opposite — I say hello to everybody before and then at the end I might say hello to somebody who is famous. Why? Because, I hear this from the customers and we listen."
Start your journey today