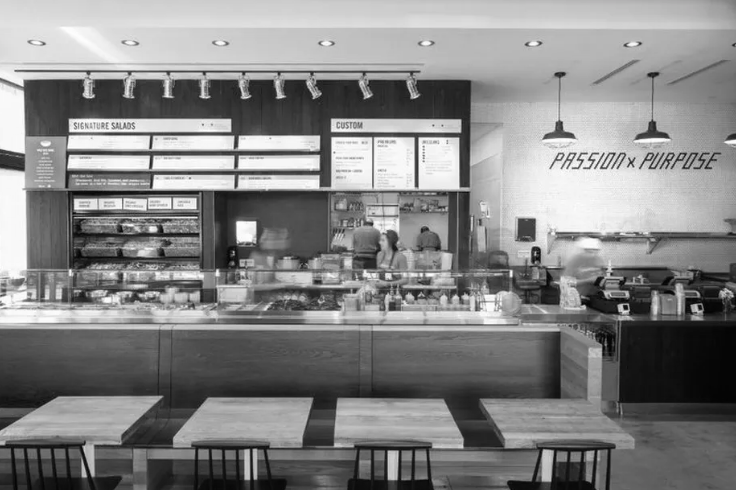 Sweetgreen & Manifesting With Purpose
"A master in the art of living draws no sharp distinction between his work and his play; his labor and his leisure; his mind and his body; his education and his recreation. He hardly knows which is which. He simply pursues his vision of excellence through whatever he is doing, and leaves others to determine whether he is working or playing. To himself, he always appears to be doing both."
The secret to a fulfilling life is to discover what excites you, what you love to do, and then spend your days passionately pursuing, sharing, and manifesting that purpose with all your heart. And purpose is exactly that—it's "the reason for which something exists." It's the why behind everything you do. But despite the fundamental importance of purpose, most individuals and organizations are not fully in touch with it, and, worse, have no conscious desire to figure it out.
This is because most organizations are focused on practical elements—what they do ("we sell gym equipment") and how they do it ("through our website and retail stores"). But what really unlocks your creative potential is getting in touch with the purpose behind what you're doing. Author Simon Sinek describes this beautifully in his TED Talk "How Great Leaders Inspire Action," stating that "Instead of asking, 'WHAT should we do to compete?' the questions must be asked, 'WHY did we start doing WHAT we're doing in the first place, and WHAT can we do to bring our cause to life considering all the technologies and market opportunities available today?'"
In today's market, anything that isn't differentiated through creativity or a 10x technology will be immediately commodified by the industrial system. The only way to sustainably incite your audience to take action is to inspire them with meaningful purpose. This makes purpose the holy grail of unlocking your creative potential.
Once you discover your purpose, the goal becomes to live it in all aspects of what you do. This is the integrated life, a life in which there's no difference between work and play; there's only your purpose and what you're doing at that very moment to live that truth, wholly and completely. The closer you get to that point, the closer your entire life comes to being an actualized existence, and the more likely you will enjoy many more of Maslow's peak experiences.
For an example of manifesting through purpose, let's look at the restaurant group Sweetgreen. Founded in Washington, D.C., in 2007 by three college students, Sweetgreen is a fast-casual restaurant chain that describes itself as "a destination for delicious food that's both healthy for you and aligned with your values." The Sweetgreen statement continues, "We source local and organic ingredients from farmers we know and partners we trust, supporting our communities and creating meaningful relationships with those around us. We exist to create experiences where passion and purpose come together."
Notice how the messaging combines what Sweetgreen does practically with what it does emotionally? The last line informs readers that Sweetgreen's goal is to "connect people through experiences that combine passion and purpose." While Sweetgreen specializes in serving healthy salads and grain bowls, there are dozens of salad and health food restaurant groups that do the same. It is Sweetgreen's commitment to their higher purpose that sets them apart.
Through this purpose Sweetgreen has become more than a restaurant—it's become a movement and a community, one that people are so proud to be a part of that they share Sweetgreen content on their social feeds and wear T-shirts emblazoned with the restaurant's logo. The founders remain committed to their differentiating core values, such as "creating solutions where the company wins, the customer wins, and the community wins," and have used those values, rooted in their purpose, to drive the company forward. This led Sweetgreen founders to make choices that weren't always necessarily best on a short-term financial basis but which aided the business and its stakeholders over the long term. For example, when their second store wasn't performing well, the founders purchased a giant speaker, placed it outside facing a park, and threw a block party. They played great music while handing out menus and building individual relationships with community members. This approach, driven by sharing their love of food and music with their community through an experience that combined passion and purpose, eventually led to an annual multiday concert series, the Sweetlife Festival. 2017's festival was attended by 20,000 Sweetgreen devotees and, even better, all the proceeds went to benefit their "Sweetgreen in schools program," which teaches local kids about health, fitness, and sustainability.
The crowds aren't coming to Sweetgreen stores and the festival simply for great salads or cool music acts. They're coming because they buy into what Sweetgreen stands for, and because, on a deeper level, they feel a reflection of themselves in Sweetgreen's purpose—which is itself an honest manifestation of what the people behind the business believe and what they stand for.
Now that you understand what purpose is and why it's important, ask yourself these questions:
Who are you?
What makes you, you?
Why do you do the things you do?
What's important to you?
What defines you?
When you have nothing else going on, what are you thinking about?
If money or resources weren't an issue for you, what would you do?
What's unique about the way you perceive the world?
What did you enjoy doing naturally, before the world began telling you what you should be doing?
Who did you need to be to receive the love of your parents?
These questions will start you thinking about your purpose, and we'll complete this process of discovery in our book, The Age of Ideas, Unlock Your Creative Potential, now available for pre-sale by clicking here.
Start your journey today