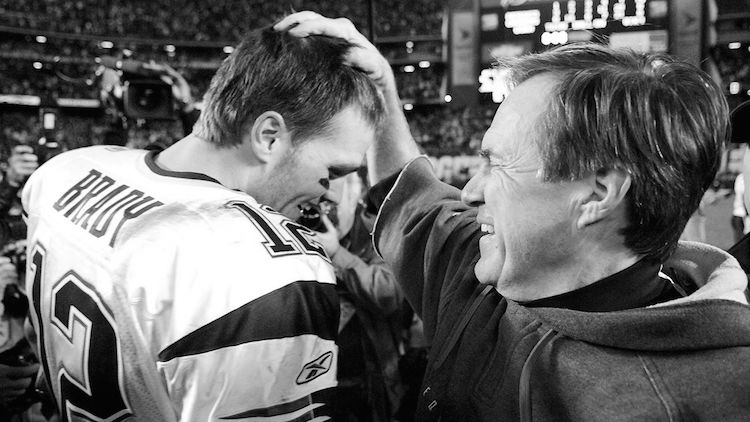 Greatness
"I don't care about three years ago… I don't care about two years ago. I don't care about last year. The only thing I care about is this week."
I am a huge fan of greatness. Some of you may call me a fair-weather fan because I don't root for one team or player, but the truth is, what gets me excited is the chance to watch greatness happen. The moment when years of preparation meet opportunity astounds me. I find no greater joy than watching execution at its highest level. That is why for the last three years my Super Bowl sermons have focused on the once-in-a-lifetime achievements of Tom Brady, Coach Bill Belichick, and the New England Patriots. They are the personification of what it means to be great.
Two years ago I wrote about how Brady is a prime example of Cultivated Appreciation.
Last year I wrote about how Bill Belichick built his career Brick by Brick.
This year my thoughts are focused on how, together, they are able to make the impossible possible, over and over again. How they always seem to be ready for any situation, and when situations occur they are able to remain calm and deliver. While there are a multitude of factors involved in their ability to execute, there are two that profoundly resonate with me—preparation & principles, and mental toughness.
Preparation & Principles
"The only sign we have in the locker room is from The Art of War," says Belichick. 'Every battle is won before it is fought.' You [have to] know what the opponents can do, what their strengths and weaknesses are…[and] what to do in every situation."
The Patriots coaching staff exhaustively researches their opponents. They study every recent and not-so-recent snap that the other team has taken, and document everything from the way the quarterback turns his head to the best and worst tacklers on each defense. And while they do exhaustive prep work on a weekly basis, it is not this weekly work alone that is of importance. It's when that effort is combined with all that has been done before which generates an unmatched body of knowledge, a resource that compounds itself and can be unleashed at any moment.
That extraordinary knowledge is what enables in-the-moment adaptation and innovation—a skill few teams or coaches are able to muster at the level of the Patriots.
And this knowledge leads to the development of habits, which when used correctly become a set of first principles. Belichick, Brady, and the Pats have developed a set of principles brilliantly informing their decisions. While some things may change, these principles do not. Without these principles—and the system they create—there would be no way to remove and insert countless team role players and still deliver consistently great results.
For example, Brady has not been throwing to simply one elite receiver, but rather an ever-shifting roster of pass-catchers, and yet he continues to come out on top. The only way to accomplish this is to take snaps game after game on a team guided by a set of principles so deeply instilled that they have produced a culture. That is how top organizations demonstrate what is called a "culture of winning." Principles and culture are the invaluable, though often overlooked, keys to delivering sustainable greatness.
Mental Toughness
When the Patriots went into the halftime locker room in Super Bowl 51 down eighteen points to the Falcons, it would have been easy to be discouraged. And when they found themselves down 25 points early in the third quarter, most people—many teams—would have been rattled, crushed, resigned to defeat. But not Tom Brady. As he led his team's history-making charge in the second half, eventually delivering one of the greatest comebacks of all time, receiver Danny Amendola described him as "the same as he always is—cool, calm and collected."
How does he do this?
Brady has been known to quote the book The Inner Game of Tennis: The Classic Guide to the Mental Side of Peak Performance. This is a book which states, "Every game is composed of two parts, an outer game and an inner game." The outer game is played against the opponent, while the latter contest takes place within the player's mind, where the principal obstacles are self-doubt and anxiety. Brady practices brain health, such as mindfulness and getting enough sleep, so that he is able to best focus his mind.
When he took the field in the second half, he focused on each play and possession, instead of the massive deficit. He took what seemed like an impossible task and transformed it into lots of small, manageable tasks. Hand off the ball, get a first down, throw a pass, score a touchdown. By focusing on those smaller tasks, he was able to control his mental state. And by executing them well, he was able to get incrementally closer to his ultimate goal.
As the minutes ticked by, an audience of millions witnessed a phenomenal meeting of preparation and mental toughness. To quote Brady: "You get in the huddle and you call those plays. You have ten other guys that are feeling your energy. And what are you putting off? Are you putting off confidence? Are you putting off fear? You know, they can feel all that. And when they get in the huddle with me, I want to look in their eyes, and I want them to feel a belief that we're gonna do it."
When I was young I used to relish watching Michael Jordan. I miss being able to watch him. I wish my kids could have seen him play. Every minute was filled with the anticipation of what he might do next. Brady and Belichick are the same. I know a lot of people seem to "hate" them, but I don't relate. Appreciate what we have seen them accomplish, because sooner rather than later they will be gone. And while I am sure more greatness will come along, it will never quite taste the same as this particular combination. Enjoy it and learn from it while it you can.
Start your journey today