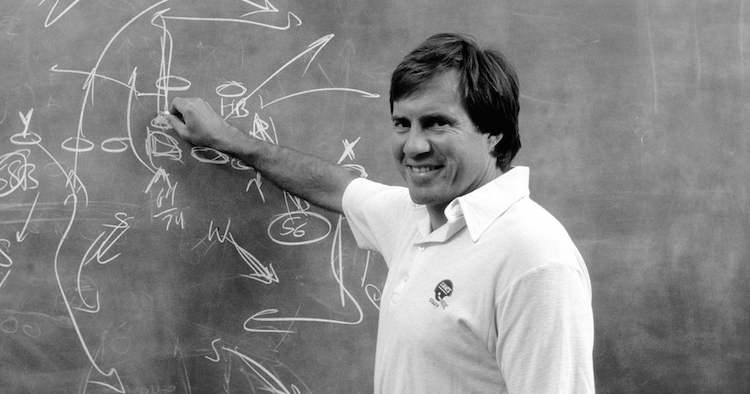 Brick by Brick
"There are no shortcuts to building a team each season. You build the foundation brick by brick."
1952: Bill Belichick is born. His father Steve is a football scout & coach.
1975: At age 23, a failed college football lineman, Belichick takes a $25-per-week job as an assistant to Baltimore Colts head coach Ted Marchibroda.
1976: He joins the Detroit Lions as their assistant special teams coach.
1978: He moves to the Denver Broncos as their assistant special teams coach and defensive assistant.
1979: Belichick begins a 12-year stint with the New York Giants.
1985: He is named defensive coordinator under the legendary Bill Parcells. The Giants win Super Bowls in 1986 and 1990.
1991: Belichick is named the head coach of the Cleveland Browns.
1996: The Browns relocate to Baltimore and Belichick is fired. His tenure as head coach ends with a losing record, 36-44.
1996: He is reunited with Bill Parcells as assistant Head Coach of the New England Patriots.
1997: He leaves the Patriots and follows Bill Parcells to the New York Jets.
2000: Bill Belichick is named Head Coach of the New England Patriots. He wins only 5 games in his first season.
The rest, as they say, is history. Since Belichick's arrival as head coach of the New England Patriots, they have a regular-season record of 261–123. He has a playoff record of 30–11, winning 16 division titles in 19 years, and has gone 5–3 in Super Bowls. Bill Belichick has won more Super Bowls than any coach in history, making him without a doubt the greatest of all time,.
Belichick has spent over 40 years in the NFL with 7 different teams. He has coached hundreds of players and experienced multiple losing seasons. He was fired from his first head coaching job. Had 2 great mentors, his father & Bill Parcells, and has been involved in multiple scandals. He is relentless, stubborn, and exhibits an unyielding dedication to his beliefs.
This is what a path to greatness looks like.
Too often we encounter struggles on our journey and feel ashamed or discouraged. The truth is that the struggle is the way. The only path to unbelievable achievement is to build your foundation, brick by brick.
Start your journey today