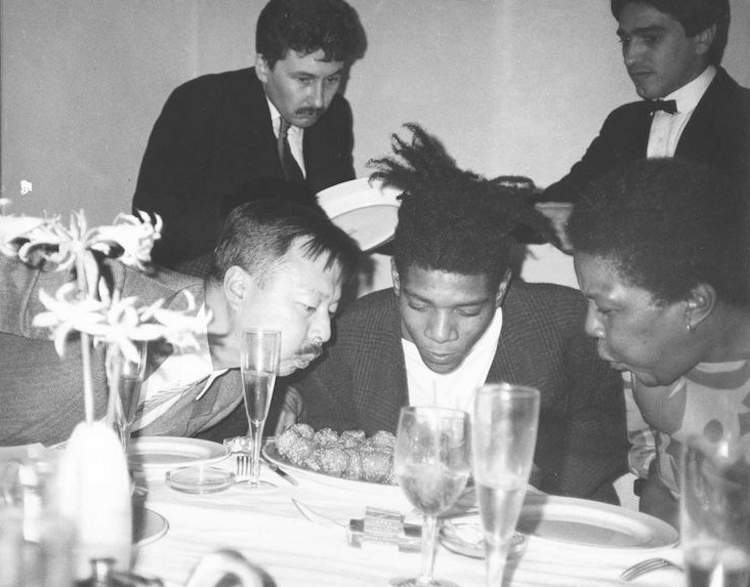 Relevance & Revenue
"In some ways, my father has been very lucky, he is incredibly hardworking, has a great eye, and has mastered the art of running a restaurant down to the tiniest detail. But he also has a knack for popping up in the right places at the right time—London in the '60s and '70s, when that city was the cultural center of the world; New York and L.A. during the art and showbiz booms there. It's uncanny."
Michael Chow, aka Mr. Chow, was born in 1939 in Shanghai as Zhou Yinghua. His father was one of China's most famous actors and his sister was one of the first Bond girls. Chow's mother was part of a wealthy family, and at the age of twelve, he was sent off to boarding school in Britain. Most of his teenage years were spent in Europe and, eventually, he settled in London, where he studied art and architecture at the Saint Martin School of Design. In his early twenties, he set about to be a painter but struggled, so he abandoned this pursuit and decided to go into business.
Chow's first venture was a hair salon with his friend and business partner Robin Sutherland, called Smith & Hawes. Realizing this wasn't his calling, he and Sutherland sold the salon to a then-famous hairstylist who eventually reopened it in partnership with the famed model Twiggy. Chow's next venture was a restaurant; he was determined to "demonstrate the greatness of China," so he and Sutherland decided it would be Chinese. The concept was to offer authentic Beijing cuisine served with European-style service by mostly Italian waiters.  It was designed so the British could easily understand it, and the décor was distinctly modern. Art was a constant in Chow's world, so he adorned the walls with works by Allen Jones, Peter Blake, Patrick Caulfield, David Hockney, and Jim Dine. Mr. Chow opened on Valentine's Day 1968 in Knightsbridge, London, and was an immediate hit. The partners opened three other Mr. Chow restaurants in London before Michael Chow bought Sutherland out and moved to the United States. Since then, Mr. Chow has expanded globally, opening in Beverly Hills in 1974, New York 57th St. in 1978, New York Tribeca in 2006, South Beach in 2009, and, most recently, in Malibu, Mexico City, and Las Vegas. All while the original location remains an institution in London.
But Mr. Chow is an anomaly.
He and his restaurants have remained popular and financially successful for almost fifty years. But it isn't because he or they are relentlessly celebrated. Since the beginning the food has been ridiculed as mediocre and overpriced. Most recently, the New York Times critic Frank Bruni reviewed his Tribeca outpost, calling it an "oxymoronic experiment in haute kitsch," noting that "it proved that you didn't need great cooking to attract boldface names; you just needed other boldface names." Then what is it that has made him successful all these years?
Relevance.
At almost eighty years old, Chow and his restaurants have been globally relevant, meaning they have mattered culturally, for more than half his life; an incredible accomplishment in any field, but unheard of in restaurants. He has been able to forge a bond with his community—a mix of the art world, celebrities, the wealthy who want to be around them, and the tourists that read about them—by being relevant, and making them feel relevant by association.  Chow's social currency directly translates to value by allowing him to charge high prices and generate a self-perpetuating chatter around his brand. What other person or brand do you know that has been able to remain relevant for so long?
But relevance alone did not make Chow the success he is today. This is a popular misconception of many success stories.  Too often, individuals and organizations chase relevance, assuming along with it will come sustainable financial returns. This is a trap. Press clippings, social media followers, buzz on the street, gifting suites, launch events, none of these things mean anything without tangible financial results. While it's wonderful to see you or your idea being buzzed about, it is far better when people are buying your product and buying into you.
The reason Michael Chow has been a success for fifty years is that he has been able to marry relevance and revenue.
A couple of years ago, I started saying, "There is no relevance without revenue and there is no revenue without relevance." like a mantra.  Unbelievable success requires that the two co-exist.  Just think of Steve Jobs, who was ousted from Apple when the original Mac failed to meet sales expectations, despite generating legendary relevance. And yet he only became the Steve Jobs we all know today when he returned to Apple and was able to marry his uncanny ability to create relevance with his newfound ability to drive revenue.
Unbelievable success must be looked at like a triangle. On top is the creator, the Michael Chow, the Steve Jobs. In one corner are the creatives who preach relevance and in the other corner the operators who preach revenue. The job of the creator is to balance the two, managing the bottom line without failing to live up to the emotional needs of their community. That is what Michael Chow has been doing for the last fifty years and that is why he has been able to make magic for so long.
Start your journey today