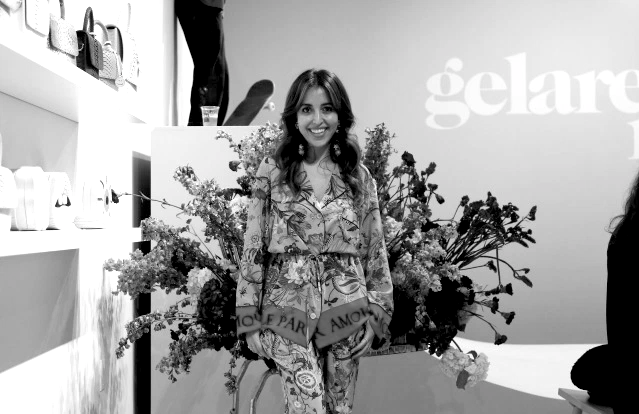 Gelareh Mizrahi
""For me, doing what you want is the ultimate luxury. I've taken the everyday plastic shopping bag and elevated its message. Looking at the bag reminds me to be grateful. And it makes me happy. To appreciate the little things.""
Gelareh curates creative people and things, combining their elements and peculiarities to tell thought provoking stories. She believes that beauty is in the eye of the beholder, but she is not beholden to any one or anything. Her passions include her children, obscure Chinese photo books, web design, photoshoots, and exploring a multitude of spiritual practices.  After graduating from Parsons The New School of Design, Gelareh spent time working at French fashion house Chanel, before founding her namesake collection of colorful handbags in 2013.  No one knows Gelareh's birthday; including Gelareh or her parents (when I say no one, I mean no one).  She's been featured in the New York Times and Vogue magazine for her breakthrough namesake collection, as a "success story for using non-traditional marketing strategies".  Her collection has quickly grown into a cult following with the fashion set. Nylon Magazine called her "the designer behind the coolest clutches in the world" and her husband told her he would marry her the night they met. Her namesake collection is sold exclusively at Barneys New York and directly through her store, which also serves as a cultural hub and hangout spot to Miami's young creatives.
Fashionista: How handbag designer Gelareh Mizrahi used social media to increase sales by 80%.
HypeBae: We're mesmerized by Gelareh Mizrahi's Holographic Bodega Bag.
WWD: Gelareh Mizrahi opens a pop-up in Miami Design District with a 40 foot Pink Skate Ramp
"A skateboard ramp in the middle of all these designer stores is a physical manifestation of everything I had in my brain, of taking luxury materials and making them street."
"The industry is a bit antiquated in that way, I did start out by going the traditional route and doing shows — the Coterie trade show every season costs $10,000 just to show your collection for the smallest available booth, so that comes to $20,000 a year. It's also such a crapshoot when it comes to which buyers are coming through and who's looking at you, so you never know."
"I do what I want."
"For me, doing what you want is the ultimate luxury. I've taken the everyday plastic shopping bag and elevated its message. Looking at the bag reminds me to be grateful. And it makes me happy. To appreciate the little things."
Start your journey today