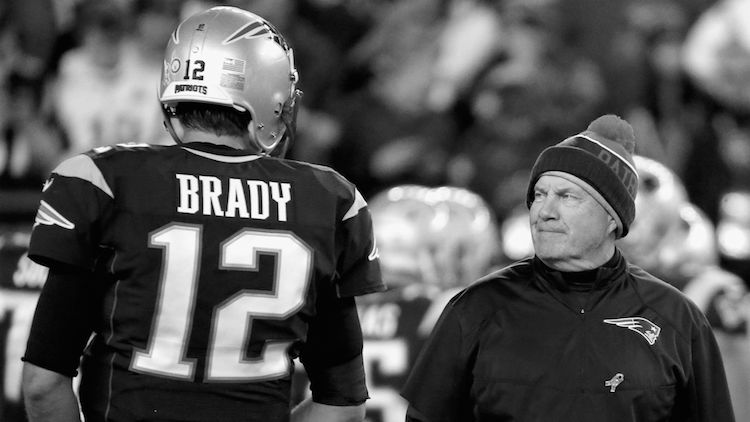 Brady & Belichick
"Too often in life, something happens and we blame other people for us not being happy or satisfied or fulfilled.""
Capitalism harnesses our selfish desires to fuel the growth of society. It rightfully assumes that when freedom is combined with desire, individuals will obey their self-interest and work hard to improve their position.
While I'm a rabid capitalist, the system is not without flaws. When most of our focus is on growth, material goods, and financial returns, it is inevitable that we'll constantly lack fulfillment. And that lack has powerful negative implications. This has led me to the realization that our endless desire for more must be counterbalanced by the cultivated appreciation of what we have. Without that appreciation, the personal fulfillment we all seek isn't possible. Just think of the multitude of parents obsessed with their children's future achievements rather than enjoying the pure bliss of their child every day.
The likelihood of manifesting magic increases tenfold when appreciation is cultivated. For example, Tom Brady has five Super Bowl rings and is without a doubt the greatest quarterback to ever play football but Forbes recently also called him "the biggest bargain in sports." So what gives? Aren't the two in complete opposition? While I have little concern for Tom's overall financial situation, it's notable that he earns less than almost a dozen other quarterbacks and could easily command significantly more. Why doesn't he? Well, it seems Tom cares more about manifesting his magic—aka winning Super Bowls—than he does his personal financial growth. Or, simply, he balances his selfish desire for more with a cultivated appreciation of what he already has, in this case his team. And that, along with the greatest coach in football history, is what makes the New England Patriots perennial favorites to win the Super Bowl.
Lacking appreciation is endemic to our society and the human condition. It leads us to believe that fulfilling our selfish desires will lead to the fulfillment we all crave. But that is exactly what separates us from the rest of the animal kingdom: our ability not to act on our selfish desires. Only when we stop this force can we truly appreciate the gifts we have already been given and manifest them into magic.
"There are no shortcuts to building a team each season.  You build the foundation brick by brick"
 – Bill Belichick
1952: Bill Belichick is born. His father Steve is a football scout & coach.
1975: At age 23, a failed college football lineman, Belichick takes a $25-per-week job as an assistant to Baltimore Colts head coach Ted Marchibroda.
1976: He joins the Detroit Lions as their assistant special teams coach.
1978: He moves to the Denver Broncos as their assistant special teams coach and defensive assistant.
1979: Belichick begins a 12-year stint with the New York Giants.
1985: He is named defensive coordinator under the legendary Bill Parcells. The Giants win Super Bowls in 1986 and 1990.
1991: Belichick is named the head coach of the Cleveland Browns.
1996: The Browns relocate to Baltimore and Belichick is fired. His tenure as head coach ends with a losing record, 36-44.
1996: He is reunited with Bill Parcells as assistant Head Coach of the New England Patriots.
1997: He leaves the Patriots and follows Bill Parcells to the New York Jets.
2000: Bill Belichick is named Head Coach of the New England Patriots. He wins only 5 games in his first season.
The rest, as they say, is history. Since Belichick's arrival as head coach of the New England Patriots, they have a regular-season record of 250–118. He has a playoff record of 27–10, winning 15 division titles in 18 years, and has gone 5–2 in Super Bowls. Bill Belichick is without a doubt be the greatest coach of all time.
Belichick has spent over 40 years in the NFL with 7 different teams. He has coached hundreds of players and experienced multiple losing seasons. He was fired from his first head coaching job. Had 2 great mentors, his father & Bill Parcells, and has been involved in multiple scandals. He is relentless, stubborn, and exhibits an unyielding dedication to his beliefs.
This is what a path to greatness looks like.
Too often we encounter struggles on our journey and feel ashamed or discouraged. The truth is that the struggle is the way. The only path to unbelievable achievement is to build your foundation, brick by brick.
Start your journey today